President Paul Biya: Cameroon's 'lion man'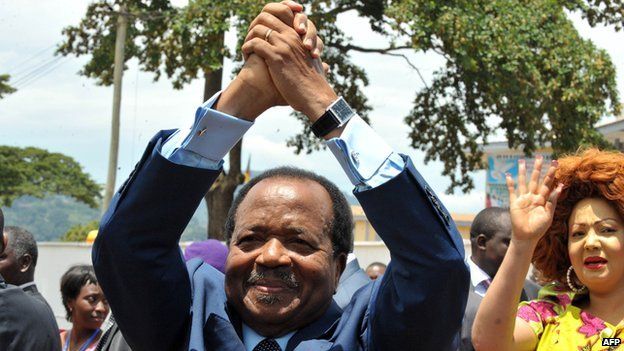 It is 30 years since Paul Biya, dubbed Cameroon's "lion man", came to power - making him one of Africa's longest-serving leaders.
He may have adopted his nickname late in his political career - after the country's football team, the Indomitable Lions, reached the quarter-final of the 1990 World Cup - but the 79 year old has employed the tactics of lion from the start.
Born in a village deep in the equatorial forest of southern Cameroon, the Catholic missionaries who educated him in a nearby seminary hoped he would become a priest.
But Mr Biya chose instead to study law and political science at the University of Paris, returning to work in the civil service.
The short, courteous technocrat rose through the ranks, taking up senior positions and winning the confidence of Ahmadou Ahidjo who had been head of state since independence in 1960.
He was a loyal prime minister for seven years, until 1982 - when in a surprise move Mr Ahidjo resigned from office and named Mr Biya president.
Mr Ahidjo held on to the chairmanship of the ruling party, thinking it was a more powerful position than that of president.
But this was when Mr Biya pounced - purging Ahidjo loyalists and eventually forcing the independence leader into exile.
He then proved himself a survivor - foiling two attempted coups, one in 1983 and another a year later.
Mr Ahidjo was fingered as the culprit and a military tribunal sentenced him to death in absentia.
He later died in Senegal, and his former protege would not allow his body to be brought back to Cameroon for burial.
Mr Biya has displayed the same ruthlessness over the years with allies who have shown presidential ambition.
One of his doctors is in jail for corruption, a former interior minister has just started a 25-year sentence on similar charges; a former prime minister is currently on trial and two others have gone into exile.
However, he maintains a somewhat royal air, distancing himself from the cabinet - some ministers are appointed and sacked years later without ever meeting the president.
On the international front, he has also shown stamina - forcing Cameroon's more powerful neighbour Nigeria to hand over the prized Bakassi Peninsula.
The two countries have clashed several times over the oil-rich territory and Mr Biya decided to go to the International Court of Justice to decide the case.
Mr Biya has said he wants to be remembered for bringing democracy to Cameroon.
He finally gave in to pressure to end the one-party system and in 1992 held and won the country's first multiparty elections with only 40% of the vote - amid allegations of fraud. His main rival John Fru Ndi was widely believed to have won - but a Supreme Court judge said his hands "were tied" and declared Mr Biya victorious.
The president has since gone on to consolidate his hold on power, winning three subsequent presidential polls and never gaining less than 75% of the vote.
His critics say the president and his allies have ensured that Cameroonians have little real choice, with his party always assured of victory well in advance of every election.
And corruption is an issue that has dogged Mr Biya during his time in office.
He has now set up an anti-corruption commission, but it is said to permeate all levels of society and has hampered the country's development, with Cameroon winning the title as the most corrupt country in the world twice in the 1990s.
Perhaps one of the keys to his political longevity is his second wife Chantal, 38 years his junior, who he married in 1994.
Famed for her mane of orange hair, her outgoing nature and charity work have ensured her much media coverage.
She is often referred to in the press as Cameroon's "Queen of Hearts", more than making up for the husband's aloof nature.
The first couple, who have three children together, even had a lion and lioness named after them at the Mvog Beti zoo in the capital, Yaounde.
They have also become known for their lavish lifestyle in Cameroon - one of Africa's main importers of French champagne - and abroad.
Their holiday in southern France three years ago was the subject of articles in the Cameroonian and French press which alleged Mr Biya was spending $40,000 a day on 43 hotel rooms. Officials at the time defended the president's right to spend the money allotted to him the way he wished.
Because of his lengthy absences - sometimes two or three months at a time - he is known by his critics as the "absentee landlord".
When the Paul Biya lion died at Mvog Beti zoo in 2007, many said it was bad omen for the president.
Not long afterwards there were rumours that he had died in a Swiss clinic.
When he returned home after what had been a 43-day absence, he boasted on state television that those wishing him dead must wait for another 20 years.
And since then, journalists have learnt not to speculate or joke about his health.
The late veteran reporter Pius Njawe spent a year in prison for suggesting the president was suffering from a heart problem when he appeared to faint while watching a football match 14 years ago.
Having changed the constitution in 2008 to remove presidential term limits, Mr Biya seems quite content to remain at the helm for some time to come.
The army is well paid and loyal. It crushed the 2008 food riots, one of the biggest threats the president has ever faced.
Even a march planned by the main opposition Social Democratic Front to protest at Mr Biya's three decades in power was dispersed by riot police before it could begin - to ensure nothing dampens the celebrations.