Melcom shop collapse in Ghana: Negligence blamed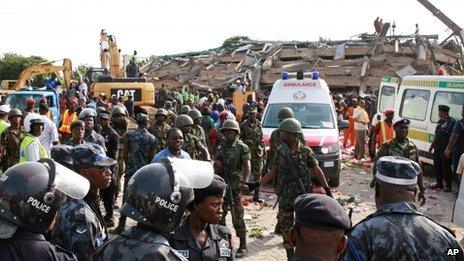 Faulty construction caused a multi-storey shopping centre to collapse in Ghana's capital, Accra, killing at least nine people, officials have said.
They say the building did not have the necessary permit and so had not had a safety inspection.
President John Dramani Mahama said those responsible for the "negligence will pay a price".
Rescue efforts are continuing, with 69 survivors pulled out from under the rubble since Wednesday, police said.
Mr Mahama suspended his campaign for next month's election, after the disaster at the Melcom store.
He also ordered an investigation into why the building, in Accra's Achimota neighbourhood, collapsed.
A spokeswoman for Ghana's National Disaster Management Organization, Kate Adobaya, said structural weakness had caused the collapse, AP news agency reports.
"The foundation was not good enough," she is quoted as saying.
Police spokesman Freeman Tettey told the BBC that rescue teams have so far pulled out 78 people from beneath the debris - nine of them dead and 69 alive.
It is not known many people are still trapped, he said.
An Israeli rescue team has arrived, using sniffer dogs to help locate people buried under the rubble.
The BBC's Akwasi Sarpong reports from the scene that the rescue operation is far more organised than on Wednesday, when there was confusion, frustration and anger as people demanded to know how the shopping centre, which opened earlier this year, could have collapsed.
Ghana Institution of Engineering Vice-President Magnus Quarshie told the BBC's Focus on Africa programme that they were still carrying out their investigations into the disaster.
"However, looking at the debris, it shows workmanship was very, very poor," he said.
"We can tell the concrete mix was not to the specifications we require," the AFP news agency reports him as saying.
The building "didn't have a permit, which means that AMA [Accra Municipal Authority] may not have assigned a building inspector," he said.
"We are going to put in place mechanisms to check the safety and security of other high-rise buildings and find out if there aren't any more such disasters waiting to happen," he said.
The Melcom Group of Companies, which has retail outlets across Ghana, said it had closed its stores on Thursday as a mark of respect for the dead.
"This is indeed a very tragic incident," it said.
Mr Mahama has declared the area a disaster zone.
He cut short a trip to northern Ghana on Wednesday, where he was campaigning for the 7 December parliamentary and presidential elections.
Related Internet Links
The BBC is not responsible for the content of external sites.