Mali arrests French radical Ibrahim Ouattara 'for Islamist ties'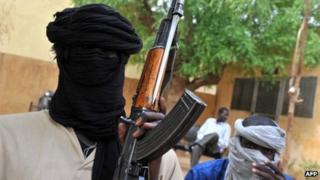 French radical Muslim Ibrahim Ouattara has been arrested in central Mali, defence officials have said.
The 24 year old is suspected to have links to Islamist militants who took control of the north earlier this year.
Earlier this week West African army chiefs adopted a military plan to expel the al-Qaeda linked rebels.
It was reported last month that groups of foreign fighters from Algeria and Western Sahara were arriving in northern Mali to boost Islamist forces.
The details of the plan adopted by the military chiefs have not been made public - and came as one of the main Islamist groups, Ansar Dine, committed to peace talks with the new unity government in Bamako.
'Too moderate'
Malian Defence Ministry spokesman Nouhoum Togo said Mr Ouattara was travelling with false documents claiming to be a Senegalese national.
He was picked up last week by the security forces in Sevare, a town bordering rebel-held territory, Mr Togo said.
He is suspected to have planned the trip in order to establish a radical Islamist network.
BBC West Africa correspondent Thomas Fessy says Mr Ouattara was released from jail in France in July after serving a two-year sentence for plotting to kill a prominent cleric in Paris he thought too moderate.
The cleric is also know to have travelled to the Middle East on several occasions, our correspondent says.
The Malian authorities say an investigation is under way into the preacher.
Security sources in Mali and neighbouring Niger have told the AFP news agency they have turned back dozens of European residents heading for Islamist-held territory.
On 12 October, the UN Security Council gave the regional bloc Ecowas and the African Union a 45-day deadline to submit the details of a plan to oust the Islamists from northern Mali.
West African leaders are expected to sign off the plan at an Ecowas summit in Nigeria's capital, Abuja, on Sunday, AFP reports.
"It is an ambitious plan, we should expect a little over 4,000 people in case of military intervention. We have studied all the parameters - now we await instructions from our heads of state," an officer from Benin told the agency.
Ansar Dine and its allies took advantage of the chaos sparked by an army-led coup in March.
The military had been trying to put down a Tuareg rebellion that began in January, but after the putsch the rebel groups quickly took over the region's main towns.
The Islamists subsequently fell out with the Tuareg groups and consolidated their power, introducing strict Islamic law.