Nigeria: Chinese workers killed by gunmen in Benisheikh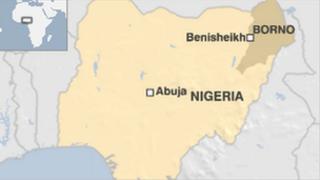 Two Chinese construction workers have been killed by unknown gunmen in the north-east of Nigeria.
Residents of Benisheikh town in Borno state told the BBC the attackers then stole the men's vehicle.
Four Chinese men have now been killed over the last month in Borno state, which has been beset by insecurity because of an Islamist insurgency.
In October China lodged a diplomatic protest and asked the authorities to ensure the safety of its nationals.
Hundreds of people have died in northern and central Nigeria over the last two years in attacks blamed on the Islamist Boko Haram group.
The BBC's Bashir Abdullahi in the capital, Abuja, says the general insecurity has also allowed robbers to take advantage of the situation - using the militants as a guise.
Boko Haram, which is fighting to impose Islamic law across Nigeria, has also been known to use stolen cars in their attacks, he says.
Chinese workers are involved in many construction works across the north - most of them funded by the Chinese government.
Benisheikh residents told the BBC's Hausa service that the attack on the Chinese workers happened on Wednesday morning.
According to an official at the Chinese Civil Engineering Construction Corporation, four engineers had just arrived in Benisheikh from Damaturu in neighbouring Yobe state.
"Some unknown gunmen trailed them to the yard and opened fire, killing two Chinese engineers," the official told the AFP news agency.
"This is the second attack on the yard by gunmen in just two weeks. Last month some gunmen attacked the same yard, killing two mobile policemen guarding the place," he said.
The state's police commissioner, Yuguda Abdullahi, told AFP he was aware of the attack, but had no further details.