Melcom shop collapse in Ghana: Voices heard in rubble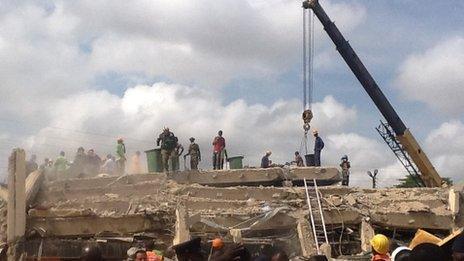 Voices can still be heard in the rubble of a multi-storey shopping centre in Ghana's capital, Accra, 48 hours after it collapsed, rescue workers have said.
So far 78 people have been pulled out from beneath the debris of the Melcom store - nine of them dead and 69 alive.
Faulty construction has been blamed for the collapse of the building, which opened earlier this year.
People in nearby buildings owned by the same company have been ordered to evacuate pending safety inspections.
President John Dramani Mahama said those responsible for the "negligence will pay a price".
The BBC's Akwasi Sarpong at the scene of the collapse says rescue efforts are now concentrating on one section where the voices can be heard.
A military officer who became trapped beneath the rubble in the course of the rescue exercise on Thursday has been pulled out and rushed to hospital.
This has created more space for the team to get to four persons believed to be in that same spot.
An Israeli rescue team has been using sniffer dogs to help locate people buried under the rubble.
Officials from Ghana's National Disaster Management Organization have blamed poor foundations for the structure's weakness.
On Thursday, the Ghana Institution of Engineering said the building did not have a permit, which meant the city authorities may not have inspected the building before it opened.
The Accra Metropolitan Assembly has now ordered three nearby buildings which are also owned by Nana Boadu, the director of Kinsadus Company, to be evacuated.
These include the branches of two banks.
The court order posted on the Standard Chartered Bank building says that no-one is allowed access to the building "until appropriate structural adjustments and building permits are regularly obtained from Accra Metropolitan Assembly".
Our reporter says the employees of Fidelity Bank could be seen moving computers and furniture out of the branch on Friday morning.
According to the court order, the third building is occupied by Mr Boadu and his family.
He told another radio station on Friday morning that the Melcom store building did have a permit.
"Every document needed to help in the investigations I will provide. I have a file full of documents and receipts showing the building permit fees," he said.
Accra mayor Alfred Vanderpuye arrived at the site of the collapse on Friday to face questions from reporters about whether he was going to resign over the affair.
He said he could not be blamed as the shopping centre was not constructed under his administration.
The president has declared the site a disaster zone and suspended his campaign for next month's elections.
Related Internet Links
The BBC is not responsible for the content of external sites.