South Africa police hunt Pretoria Art Museum thieves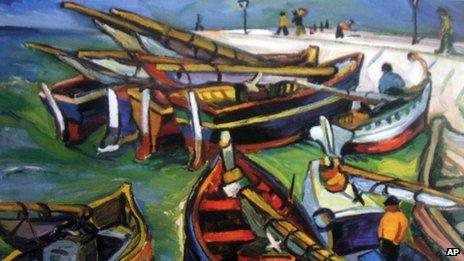 South Africa's police are hunting for a gang which stole art worth $2m (£1.25m) from a museum in the capital, Pretoria.
The robbers posed as visitors, before drawing pistols and stealing paintings by top South African artists, police spokesman Lt Col Katlego Mogale said.
The thieves abandoned one painting because they could not fit it in their getaway car, the AFP news agency reports.
South Africa has one of the highest crime rates in the world.
Lt Col Mogale said border officials are on alert in case the thieves try to smuggle the paintings out of the country.
Three gunmen paid the $2.25 entrance fee at the Pretoria Art Museum on Sunday and then "held up the person who they had just paid and demanded several paintings before they escaped", he added.
'Identikits being compiled'
Authorities said the robbers stole specific paintings, but were forced to leave behind a painting by well-known artist Irma Stern because it did not fit in their silver sedan car, AFP reports.
The gunmen escaped with another Stern painting, Fishing Boats, South Africa's Times Live newspaper reports.
Other paintings stolen include Maggie Laubser's Cat and Petunias, JH Pierneef's Eland and Bird, Hugo Naude's Hottentot Chief and Gerard Sekoto's Street scene, it reports.
Lt Col Mogale said identikits of the suspects were being compiled.
"No arrests have been made but we are following a few leads," he said.
Related Internet Links
The BBC is not responsible for the content of external sites.