Nigeria's Ezamgbo donkey market closes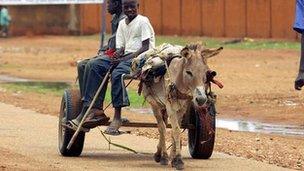 A top trader at Nigeria's biggest donkey market has been abducted by gunmen, a police spokesman says.
Al-Haji Salisu Yunusa's abduction led to the brief closure of the 80-year-old market in the south-eastern town of Ezamgbo, a BBC reporter in Nigeria says.
His kidnappers are believed to be demanding a ransom, our reporter says.
Some 200 donkeys are said to be slaughtered at the market's abattoirs every day for human consumption.
Police spokesman Sylvester Igbo said efforts were being made to secure Mr Yunusa's release.
The BBC's Abdussalam Ibrahim Ahmed in south-eastern Nigeria's Enugu city says he understands that the abductors are demanding 300m naira ($1.9m; £1.2m) in ransom.
However, there is also speculation that Mr Yunusa, whose origins lie in northern Nigeria, may have been targeted in revenge for the killing of southerners in the north.
Gunmen seized Mr Yunusa - one of the leaders of the market - as he was driving to his home on Friday evening in Ezamgbo in Ebonyi state.
The market was shut on Monday morning as traders protested against his abduction, our reporter says.
It reopened later, as traders feared that its closure could cause tension and complicate efforts to secure Mr Yunusa's release.
Buying and selling donkeys and donkey meat has been a thriving business at the market since it opened 80 years ago.
About 20 trailer-loads of donkeys are dropped off at the market daily.
The market is run by northerners who sell donkey meat to people in the south-east who eat it.
Customers from other south-eastern states also travel to the market to buy donkeys and their meat, our reporter says.