South Africa vineyard clashes leave one dead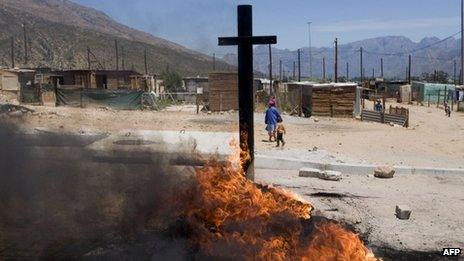 One person has died in clashes between farm workers and police in South Africa's vineyard region.
The agricultural workers have been protesting for the last week demanding more pay.
Police have fired rubber bullets as protesters have blocked roads, set fields alight, overturned vehicles and destroyed equipment.
Five other people have been injured in the unrest in the fertile wine-producing region outside Cape Town.
Several thousand striking farm workers are calling for their salaries to be doubled to 150 rand ($16; £10) a day.
The vineyards are the latest industry in South Africa to be hit by violent demonstrations over pay.
In August, 34 people died when police opened fire at striking miners, leading to widespread shock.
The circumstances of the death in Wolseley in the Western Cape province are to be investigated by the Independent Police Investigative Directorate, which looks into complaints about the force, AFP news agency reports.
"We can confirm the death of a 28-year-old man in Wolseley and five others wounded," Lybey Swartz of the Western Cape police told AFP.
The BBC's Andrew Harding in Johannesburg says the agricultural employees work in one of the one of the richest and most beautiful corners of South Africa - but the inequality is jarring.
As with the unrest at the mines, there is concern that local frustrations are being exploited for political gain, our reporter says.
Farm owners have reported seeing protesters being bussed in - perhaps in order to discredit the only province of South Africa that is not controlled by the ruling African National Congress, he says.
Related Internet Links
The BBC is not responsible for the content of external sites.