Sierra Leone faces huge election test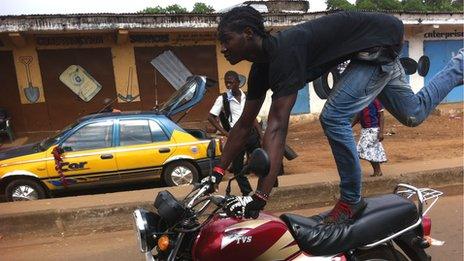 Sierra Leone may be about to prove it has grown up.
Most of its 51 years since independence have been a disaster.
They were characterised by dictatorship, corruption and - during the 1990s - a terrible, blood diamond-soaked war.
But on Saturday the country goes to the polls in what will be the first free elections that Sierra Leone has organised itself - the last two free polls were run by the United Nations.
The main contestants in the presidential election (there are also local and parliamentary polls taking place on Saturday), are the incumbent, Ernest Bai Koroma, and the man standing for the largest opposition party, Julius Maada Bio.
The urbane Mr Koroma received me in his Presidential Lodge on a Freetown hilltop. He was dressed in the colours of his party - a red T-shirt, relaxed white slacks and trainers.
Hours earlier he had been in a business suit opening a hospital.
The hospital commissioning was a blatant example of taking advantage of incumbency.
It was built under government auspices. But here was Ernest - as he is affectionately known to most Sierra Leoneans - backed by his praise singers and dancers in party red, quite obviously trying to score party points.
When this was put to him, the smiling president tried at first to claim that it was pure coincidence that the opening day for this shiny new hospital was five days before voting.
But then he finessed his answer.
"Well, of course, when you're in politics, everything you do is political," and he smoothly continued to list his other achievements.
These are not inconsiderable. In the past five years there has been a wave of foreign investment and many infrastructure projects - including hundreds of miles of roads and improved electricity supply - are either completed or on the way. In 15 years I've never seen the place so busy.
Five years ago, shortly after Mr Koroma was first elected, he appeared nervous and hesitant.
But this time, when asked if it was true that one of the big mining companies had given him $2m (£1.3m) to refurbish his offices, he dealt with the question like a media-trained western politician.
"When we came in we needed a lot of support," he said. "We solicited it from governments, friends and institutions - to refurbish state house, for equipment and so on.
"The Chinese, the Kuwaitis, the former Libyan regime, the Qataris , the Senegalese, and the Moroccans all helped, and the British were major players in some areas. And a few companies also. But we did not ask a specific mining company for help."
Not really a denial, then. But not really a confirmation either. Mr Koroma has grown into the job of being a politician - after a business career in insurance.
I met Julius Maada Bio just outside Freetown in a small town called Waterloo.
He was coming into the capital for his final campaign rally and when he stopped outside Waterloo police station, our rendezvous point, and stepped out of his car, he was immediately surrounded, even in this small place, by hundreds of people.
We had to beat a hasty retreat from his noisy, enthusiastic supporters to conduct an interview in the back of my car.
A colleague in Freetown had earlier told me that Mr Bio lacked charisma, but instead he seemed intelligent and savvy.
Many say his main disadvantage is that, as the former military ruler of Sierra Leone from 1992-1996, he is associated with a deeply unpopular period before democracy.
Challenged on this, Mr Bio shot back: "No, my service record is an asset to me, I am proud of it.
"Yes I was part of a military government but I played a positive role. We promised to hand over after four years and we promised democracy - I stepped in to make sure those promises were kept."
Asked about Mr Koroma's track record of building roads and attracting foreign investors, he countered:
"It's mostly cosmetic. When our party was in power before Koroma we built a lot in terms of schools, hospitals and roads. In fact we constructed more roads in terms of mileage than them."
It will be difficult for either candidate to get 55% in the first round of voting - especially as there are several smaller parties splitting the vote.
Mr Koroma clearly has a good track record of getting the economy at least to begin to work. The road building programme is impressive and popular.
But some members of his government have a whiff of corruption about them.
Mr Bio can clearly command considerable support - especially in the mainly ethnic Mende south which is the heartland of his party. (Mr Koroma's strongest support is in the north.)
While Mr Bio's opponents say he only reluctantly handed over power to civilians in 1996, he says he only seized office from his predecessor, Capt Valentine Strasser, to make sure democracy would come.
His supporters call him "the father of democracy". But, again, some in his entourage have questionable records on corruption.
Sierra Leone is facing a huge test in running these elections.
Like most people in this country I hope it passes that test - and shows that, in its 50s now, it has, finally, grown up.