Simone Gbagbo arrest warrant issued by ICC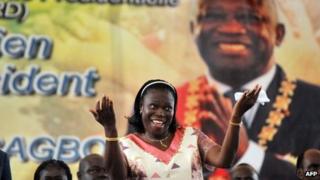 The International Criminal Court has issued an arrest warrant for Simone Gbagbo, the wife of Ivory Coast's ex-President Laurent Gbagbo.
She is wanted for alleged crimes against humanity committed in the wake of disputed presidential elections in 2010.
Her husband is already awaiting trial at the court in The Hague on four charges of crimes against humanity.
Some 3,000 people died in the unrest after he refused to accept defeat.
Mr and Mrs Gbagbo were arrested in a bunker in April 2011, five months after the elections, following a military assault - backed up by UN and French troops - on their residence in the main city, Abidjan.
Mr Gbagbo, 67, was transferred to The Hague a year ago - the first former head of state to appear at the ICC.
He has denied responsibility for the post-election violence.
Before the transfer, both he and his wife, 63, were charged in Ivory Coast with economic crimes, including looting, armed robbery, and embezzlement.
The ICC has called on Ivory Coast to surrender Mrs Gbagbo.
Analysts say the former first lady was a powerful politician in her own right. She is the first woman to be charged by the ICC.
Some saw her as the real hardline influence on Mr Gbagbo, preventing him from giving up power.
In a statement, the ICC said it had decided to make public the warrant of arrest for Mrs Gbagbo on four charges of crimes against humanity, which was initially issued in February.
She was responsible for "the crimes against humanity of murder, rape and other forms of sexual violence, other inhumane acts and persecution" allegedly committed in Ivory Coast between 16 December 2010 and 12 April 2011, the statement said.
The arrest warrant accuses her of participating in the planning and orchestration of the violence, in which members of ethnic and religious groups seen as likely to support Mr Gbagbo's rival, Alassane Ouattara, were targeted.
"Ms Gbagbo was ideologically and professionally very close to her husband, Mr Gbagbo. She participated in all the meetings during the relevant period. Although unelected, she behaved as the alter ego of her husband, exercising power and taking state decisions," the arrest warrant says.
The United Nations recognised Mr Ouattara as the winner of the November 2010 presidential election.
He was sworn in as president in May 2011, a month after the Gbagbos were captured.
The ICC said it was continuing to investigate crimes allegedly committed by all sides in the conflict.
President Ouattara has promised that even his supporters who committed crimes would face justice. His critics note that so far, only supporters of Mr Gbagbo have been charged.