Benin: 'Voodoo link' as graves desecrated in Porto-Novo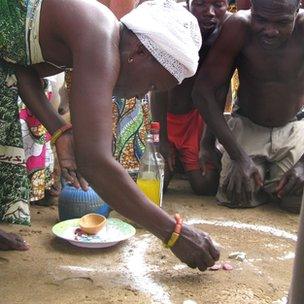 More than 100 graves have been desecrated in a cemetery near Benin's capital, Porto-Novo, police say.
The grave robbers cut the heads off the bodies and also stole some internal organs.
The BBC's Vincent Nnanna in Benin says there is a suspicion the crime is linked to extreme Voodoo practices of using body parts in charms.
It is the first such incident in the West African nation, where Voodoo is an official religion, he says.
Our reporter says the desecrated graves were discovered by a mason who had forgotten his tools at the 20-acre (eight-hectare) cemetery in Dangbo near Porto-Novo.
The mason alerted the police who found that up to 100 graves had been tampered with overnight.
Relatives have been traumatised by the mutilations as most people believe in reincarnation, our reporter says. They fear their loved ones will be reincarnated with body parts missing.
Crowds who gathered outside the cemetery believe the body parts were taken by people planning to sell them for use as lucky charms, our correspondent says.
A high priest told the BBC such practices were not recognised by the mainstream Voodoo religion - and condemned the grave desecrations.
Voodoo followers - who make up some 40% of Benin's population - believe that all life is driven by spiritual forces of natural phenomena such as water, fire, earth and air, and that these should be honoured through rituals like animal sacrifices.
Related Internet Links
The BBC is not responsible for the content of external sites.