African viewpoint: Less is more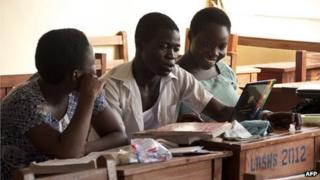 In our series of viewpoints from African journalists, Elizabeth Ohene in Accra, Ghana, complains that people are too verbose when seeking a job.
It is a tricky thing, this business of CVs, or curriculum vitae or resumes as the Americans call them.
What are you really supposed to say about yourself that tells the truth and manages to present you in the best possible light?
The original meaning of CVs was restricted to the short written description of a university teacher's career which they send out when looking for a new job.
The meaning of the term has now stretched to cover the rest of us, that is, a short written document that lists your education and previous jobs which you send to employers when you are looking for a job.
I know a gentleman whose CV runs to 32 pages the last time I checked and even though he has led a distinguished public life and is also a traditional leader, I have always thought it is an overkill to list every committee you have served on in your CV.
But then I also know another person who has led what could certainly be described as an even more distinguished life and his CV covers one side of an A4 sheet of paper.
There are companies that have made fortunes selling CV writing skills. They put together the same information in a much more appealing way to better project your image and convince a prospective employer that you have something special.
Flowery and elaborate
It is a skill that is much in demand even when you are not looking directly for a job but you are in the public eye and even more so if you are in politics.
Take the simple business of having to introduce someone at a public function. What do you keep in and what do you keep out?
These past few days there has been some excitement in Ghana about politicians being accused of massaging their CVs.
Some were accused of leaving out what some thought were important details about their lives and others were accused of adding details that did not really belong.
The usual practice in these parts is a preference for elaborate introductions.
It does not matter how modest the occasion or indeed, how modest the person selected to chair an occasion, the chairman must have an introduction that is full of irrelevant details and is as flowery and elaborate as possible.
It will not do to simply state that Mrs Mensah, headmistress of the local secondary school is chairman of the church harvest committee.
You will have to state that Mrs Mensah went to school at the kindergarten that a famous High Court judge also attended; Mrs Mensah was dormitory prefect in her secondary school and she was a participant at a seminar that discussed the advantages of onions in the diet of teenagers.
Maybe it is our love of titles, a subject on which I have had something to say in these columns; but when it comes to saying something about somebody or about ourselves, we will not settle for two words if we can get away with 10.
Does it really add something to our understanding of somebody who is running for parliament that we know which kindergarten he attended 50 years ago?
Is somebody a much better candidate for president because he got a first class degree at university 30-odd years ago when he has not done much with his life since then and there is another candidate who only finished secondary school and has led a much more interesting and challenging life?
I do not advocate that people embellish their CVs with degrees they do not have or accolades they have not received.
But my perfect CV covers a third of a page and takes a minute and a half or less to read, anything more makes me distinctly uneasy.
If you would like to comment on Elizabeth Ohene's column, please do so below.