Can the gangs of Cape Town be talked out of violence?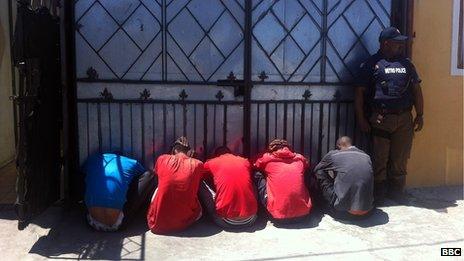 It is an uncomfortable meeting. Ten rival gang leaders - including several convicted killers - are sitting on plastic chairs in a community centre in Lavender Hill, making strenuous attempts to avoid eye contact.
For years these men have turned their neighbourhood - a collection of drab brick apartment blocks clustered round a patch of grass known locally as "the killing fields," in the shadow of Cape Town's Table Mountain - into something resembling a war zone.
Prison gangs and their local affiliates, with names like the "Mongrels", "Americans", "Corner Boys" and "Funky Junkies" have been locked in a violent struggle for control of the lucrative drugs trade.
It has been a particularly ferocious few months. As we arrive in Lavender Hill, we are told three gang members were shot dead overnight in a nearby district.
"This is pathetic what is going on in our community. People are giving up hope. We got caught in the crossfire this morning. People are scared to walk," said Maureen Osvoel, a teacher from Hanover Park.
"We don't search… but I imagine they are well protected," said Dr Ruben Richards when I asked if he thinks the gang leaders now attending his weekly reconciliation sessions are armed.
Some of the younger men - slouching, with baseball hats pulled down over unexpressive eyes - fit the familiar cliches of the gangster. But others are plump, unremarkable, middle aged figures - one in a rugby shirt, another with a thick beard.
The sessions are being organised by local community and religious leaders as part of a new scheme to try to nudge the gangs away from the drugs trade.
"Without justifying the criminal economy, you have to understand that the dynamics are exactly the same as the legitimate economy," said Dr Richards, a facilitator who was involved in South Africa's post-apartheid Truth and Reconciliation Commission.
"These are to all intents and purposes the leaders of the community. This is where power and money is. We have to find a way to re-channel that energy."
It is early days. We are told one of the men at the meeting recently ordered a hit on another. Later in the week, Dr Richards emails me to say that "a jammed gun" just saved another gangster from a point-blank range attack.
But the meetings continue. At this stage, none of the gang leaders wants to be publically identified for fear that his involvement in the reconciliation process could make him a target for rivals. But one burly man, who admits to spending seven years in jail for murder, agrees to talk anonymously.
"If you don't have a job, it is quick and easy to get money from drugs. People don't see any other way out," said the gang leader.
"But I'm worried about future generations. A lot of blood has flowed. We have the community at heart. It may not look like it right now but we do. This process is changing the way I think."
Last week Dr Richards asked the men to write about their lives. This week the discussion ranges from South Africa's history to the source of the men's anger.
The sessions are due to culminate with all the gangs cooperating in a project to install solar-powered water heaters in Lavender Hill.
But the chances of that happening remain slim.
"All it takes is one hit to derail the process," says Dr Richards.
Still, the local gangs already have one achievement under their belt - a truce that has now lasted for four months.
"It's totally unprecedented," said Pastor Stanford Hill, showing me round the neighbourhood outside.
He's a self-confessed "ex-druggie, ex-con, ex-gangster", who is behind the reconciliation talks in Lavender Hill.
"By the grace of God, for the last four months the shooting has stopped. No gang-related killings." he tells me.
"Also what is encouraging to us is that the members of the gangs are willing to participate every week and sit around the table,"
In the tiny bedroom they share in a ground floor flat, 13-year-old Lauren Fick is trying to finish her homework on her bed, as her two older brothers rub shoulders at the computer.
They are all relieved that the shooting outside has, for now, subsided. But their mother, Susan, is not convinced it will last. She also has a nagging suspicion that the gangs are being treated too kindly - the bar set too low.
"It doesn't matter where you stay, you can still bring your kids up properly. It all depends on the parents and what they're going to do about their kids," she said firmly. Beside her, the children nod in agreement.
That sentiment is echoed by Helen Zille - the premier of the Western Cape province and head of South Africa's main opposition party, the Democratic Alliance.
"To suggest that people who are unemployed or poor become gangsters is a kind of insult to people who are unemployed or poor. There are billions of people all over the world who are unemployed or poor and who are not gangsters and who do not murder other people," said Ms Zille, who blames dysfunctional families, a long history of gang rivalries and above all the drugs trade for the enduring violence on the Cape Flats.
The next day I am sitting in the back of a van with heavily armed members of the police's "gang team", on the way to the first of three drug raids.
"These houses - we hit 'em hard," said one of the officers, who asked to remain anonymous for security reasons. He said the unit had lost two men in the past month - one caught in crossfire in a similar operation, the other ambushed by a gang wanting to steal his gun.
Over the course of the next two hours the officers, backed up by an eager and effective sniffer dog called Luke, made two arrests. They also confiscated several small caches of methamphetamines and marijuana, and brought in two heavily tattooed gang members for questioning.
"You can read their bodies - he's a hit man," said one officer, lifting the shirt of a dazed-looking 25-year-old man to reveal two pistols tattooed on his chest.
The police insist the constant raids are having a significant impact on the drugs business.
But on the short journey between two operations, one of the officers put it more bluntly: "We're making a difference. I wouldn't be doing this if I didn't think that."
"But the kids here grow up with the idea that when they're older they're going to be a drug dealer. So we're basically trying to cut the head off a snake - but the body is so damned long, it's unbelievable."
Related Internet Links
The BBC is not responsible for the content of external sites.