Ghana election: Counting under way in tight race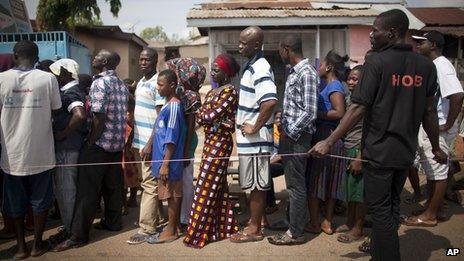 Counting is under way in Ghana's presidential and parliamentary polls.
Early partial results would appear to confirm expectations of a tight race between the two main candidates - incumbent President John Dramani Mahama and opposition leader Nana Akufo-Addo.
Voting continued for a second day in some areas after breakdowns in a new biometric voting system meant many were unable to cast their ballots on Friday.
Observers say the election has been largely peaceful.
However, police fired tear gas in the capital Accra to disperse opposition supporters who protested outside the offices of a private firm alleged to be involved in the counting of votes.
Ghana's electoral commission denied claims of improper vote counting, saying the firm was providing technical support only.
"The electoral commission receives the results directly from the polling stations. The ballot boxes go from the regional offices to the headquarters; there are no intermediaries," said electoral commission spokesman Christian Owusu-Parry.
The electoral process was declared "in the main... peaceful and transparent," by observers from the Economic Community of West African States (Ecowas).
Although voting went smoothly in many areas, some saw long delays after the new biometric system requiring electronic finger prints broke down. The late arrival of ballot materials at some polling stations added to the problems.
For those areas affected, electoral officials extended voting into Saturday.
It was not clear how many areas were affected, although the electoral commission chief Kwado Afari-Gyan told AFP news agency: "We are talking about isolated instances - it is not a mass problem."
Results had been expected as early as Sunday but it was unclear if the timeframe would remain after the extension.
A second round is possible on 28 December if no candidate wins an outright majority.
Mr Mahama, speaking after casting his vote on Friday, said the elections would "go down in history as the best ever to be held in Ghana".
Mr Akufo-Addo expressed hope that the polls would remain peaceful.
Mr Mahama took over as president after John Atta Mills died in July. His National Democratic Congress is also defending a narrow parliamentary majority.
Ghana has seen five elections since military rule ended in 1992 but analysts say the stakes are higher than ever as commercial oil production that began in 2010 is expected to expand.
Mr Mahama wants to spend Ghana's new wealth on large investments in infrastructure, while Mr Akufo-Addo is advocating free secondary education.
As a top exporter of cocoa and gold, Ghana is one of the world's fastest-growing economies.
In 2011 it saw economic growth of 14% and experts predict growth of 8% for 2012 and in 2013.
Related Internet Links
The BBC is not responsible for the content of external sites.