Ngozi Okonjo-Iweala: Nigerian finance minister's mother kidnapped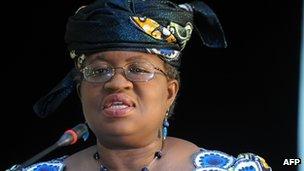 Officials in Nigeria say the mother of Finance Minister Ngozi Okonjo-Iweala has been kidnapped.
Kamene Okonjo, a professor, was taken from her home in Delta State on Sunday.
A finance ministry spokesman said Mrs Okonjo-Iweala had been threatened recently but did not know whether this was linked to the kidnapping.
Nigeria is one of the worst countries in the world for kidnapping, where it is a lucrative criminal enterprise worth millions of dollars a year.
The crime is particularly prevalent in the oil-rich Delta State, although high-profile victims are uncommon.
A security official said it was not clear whether the motive was political or pecuniary.
Mrs Okonjo-Iweala, 58, is an internationally respected economist who has led a high-profile campaign to clean up corruption in Nigeria, particularly in a controversial fuel subsidy programme.
She has delayed the payment to fuel importers, seeking better verification of claims for subsidies.
But analysts say kidnapping for political reasons is rare in Nigeria.
The minister's spokesman Paul Nwabuikwu said: "This is obviously a very difficult time for the entire Okonjo family. But the family is hopeful of a positive outcome as it fervently prays for the quick and safe return of the matriarch."
Mrs Okonjo, 82, is a medical doctor and retired professor of sociology at the University of Nigeria in Nsukka.
Her husband, Obi Chukwuka Okonjo Agbogidi, a retired professor of economics, is the traditional ruler of the Ogwashi-Uku kingdom in Delta State.
Mrs Okonjo-Iweala was one of the leading candidates to take over the World Bank this spring. She was previously the institution's managing-director but lost out to the Korean-American, Jim Yong Kim.
Related Internet Links
The BBC is not responsible for the content of external sites.