Ngozi Okonjo-Iweala's mother: Nigeria manhunt for kidnappers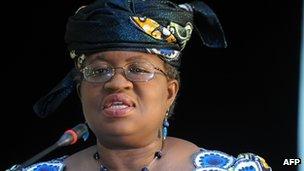 Nigeria's police have launched a manhunt for the kidnappers of Finance Minister Ngozi Okonjo-Iweala's mother, a spokesman has said.
Kamene Okonjo, a professor, was seized from her home in Delta State on Sunday.
A finance ministry spokesman said Mrs Okonjo-Iweala had been threatened recently but did not know whether this was linked to the kidnapping.
Nigeria is one of the worst countries in the world for kidnapping, where it is a lucrative criminal enterprise.
BBC Nigeria correspondent Will Ross says kidnappings are so common in the country that they rarely make front page news, but the 82-year-old Mrs Okonjo's abduction has attracted huge publicity.
Many businessmen, footballers and academics have been kidnapped for ransom in southern Nigeria in recent months.
In the past, only foreign oil workers used to be targeted, our correspondent says.
Police spokesman Frank Mba told AFP news agency that a "massive manhunt" had been launched for the gunmen who seized Mrs Okonjo.
"We might not have been able to establish motive, but it is a clear case of kidnap," he is quoted as saying.
Mrs Okonjo-Iweala, 58, is an internationally respected economist who has led a high-profile campaign to clean up corruption in Nigeria, particularly in a controversial fuel subsidy programme.
She has delayed the payment to fuel importers, seeking better verification of claims for subsidies.
Our correspondent says police have not indicated if a ransom demand has been made.
Nor have they publicly ruled out the possibility of the abduction being politically motivated, he says.
The minister's spokesman Paul Nwabuikwu said: "This is obviously a very difficult time for the entire Okonjo family. But the family is hopeful of a positive outcome as it fervently prays for the quick and safe return of the matriarch."
Mrs Okonjo is a medical doctor and retired professor of sociology at the University of Nigeria in Nsukka.
Her husband, Obi Chukwuka Okonjo Agbogidi, a retired professor of economics, is the traditional ruler of the Ogwashi-Uku kingdom in Delta State.
Mrs Okonjo-Iweala was one of the leading candidates to take over the World Bank this spring. She was previously the institution's managing-director but lost out to the Korean-American, Jim Yong Kim.
Related Internet Links
The BBC is not responsible for the content of external sites.