South Africa orders new probe into Samora Machel crash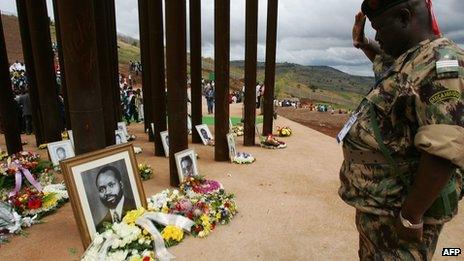 South Africa's police have launched a new investigation into the 1986 plane crash that killed Mozambican leader Samora Machel, a spokesman has said.
It comes after a tip-off that South Africa's apartheid-era officials engineered the crash, reports say.
Mr Machel's death plunged the region into crisis, as African governments accused South Africa's then-white rulers of assassinating him.
But South Africa insisted that it had not killed Mr Machel.
South Africa's privately owned Times newspaper reports that President Jacob Zuma has sanctioned the inquiry launched by the elite police unit, the Hawks, following a tip-off in January.
His approval came on the strength of evidence obtained by investigators, including documents, photographs and voice recordings, it reports.
Capt Paul Ramaloko of the South African Police Service confirmed to the Associated Press news agency that an investigation had been launched, but gave no further details.
In 1987, South Africa's Judge Cecil Margo - assisted by US and UK experts - blamed negligence on the part of the plane's crew for the crash.
However, Soviet experts working with the Mozambican authorities ruled that the crash was caused by the crew being misled by signals from a decoy navigation beacon that transmitted more strongly than the beacon at the airport in Mozambique's capital, Maputo.
The Soviet-made Tupolev Tu-134 plane came down in mountainous terrain in South Africa, as Mr Machel was flying from the Zambian capital, Lusaka, to Maputo.
Mr Machel and 33 other people on board were killed in the crash.
South Africa's now-defunct Truth and Reconciliation Commission - appointed after white minority rule ended in 1994 - investigated Mr Machel's death.
"We handed over 43 files of documents pertaining to murders [to the justice department], which we were unable to fully investigate because of time constraints. Among those files was this case," the commission's chief investigator Dumisa Ntsebeza told the Times.
"Those documents contain detailed information, including a sworn statement by a military intelligence agent [of the apartheid regime] involved in setting up the false beacon."
South Africa's then-Foreign Minister Pik Botha said he welcomed the investigation, provided it included international experts, the Times reports.
He reiterated that his government was not involved in the crash.
"The [Margo] commission came to the finding that South Africa was not involved - not me and not the government," Mr Botha is quoted as saying.
"People forget that the [commission] also consisted of experts from the UK and US."
South Africa's white minority government carried out a series of military strikes in Mozambique and other African states in the 1980s, as part of a "total onslaught" campaign to hold onto power.
It saw the US and UK governments as its allies in a region hit by Cold War rivalry.
Related Internet Links
The BBC is not responsible for the content of external sites.