Nelson Mandela 'making progress' in hospital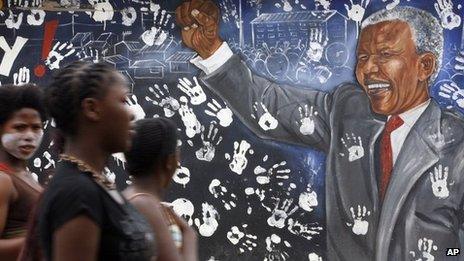 South Africa's first black President Nelson Mandela, who is being treated for a lung infection, has made progress in the past 24 hours, officials say.
Mr Mandela, 94, was rushed to a military hospital in the capital, Pretoria, on Saturday.
Doctors attending him were "satisfied with the way he is responding to treatment", a statement from the President Jacob Zuma's office said.
News of the hospital stay has prompted much concern in South Africa.
Mr Mandela is one of the world's best-loved figures after spending 27 years in prison for fighting apartheid
The former president - fondly referred to by his clan name, Madiba - is regarded by most South Africans as the father of the nation, having inspired them to fight for democracy.
He led the struggle against white-minority rule before being elected the first black president in democratic elections in 1994.
After his release from prison he forgave his former enemies and urged South Africans of all races to work together and seek reconciliation.
He was awarded the Nobel Peace Prize in 1993.
"We continue to request that Madiba and his family be accorded the necessary space and privacy and thank the media and the public for co-operation," the statement from the presidency said.
Mr Mandela was last admitted to hospital in February when he was treated for abdominal pain.
In January 2011, he was treated for a serious chest infection.
While in prison in the 1980s, Mr Mandela was also diagnosed with tuberculosis - his lungs are said to have been damaged when he worked in a prison quarry.
Mr Mandela retired from public life in 2004 and has been rarely seen in public since.
Related Internet Links
The BBC is not responsible for the content of external sites.