ANC Mangaung conference: South Africa foils 'bomb plot'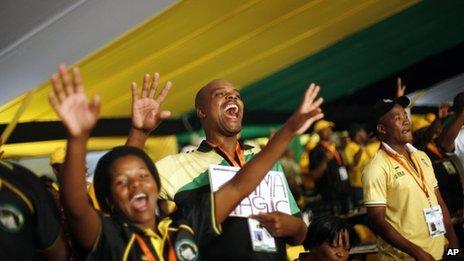 South African police have arrested four people, amid reports that they planned to bomb the national conference of the governing African National Congress.
The four white suspected right-wing extremists were arrested in raids across the country, a policeman said.
President Jacob Zuma and other top officials are at the heavily-guarded conference in Mangaung, where the ANC is due to start electing its leaders.
The ANC has governed South Africa since white minority rule ended in 1994.
Its leader will be overwhelming favourite to win elections due in 2014.
Deputy President Kgalema Motlanthe is challenging Mr Zuma for the leadership of the ANC.
However, Mr Motlanthe has withdrawn his candidature for re-election as ANC deputy leader, putting one of South Africa's richest businessman, Cyril Ramaphosa, in pole position to take the post, reports the BBC's Milton Nkosi from Mangaung.
This is a move by Mr Motlanthe to bolster his chances of unseating Mr Zuma, as it avoids diluting his support by running for two positions, our correspondent says.
After months of prevarication, the gloves are now off, he says.
Some 4,000 delegates are to vote for their party's leader.
Police spokesman Billy Jones said the four men were arrested for "suspected of acts of terrorism".
"Their acts are widespread. We arrested them in different provinces," he told Reuters news agency.
Earlier, another police spokesman was quoted as linking the alleged plot to the ANC meeting.
ANC spokesman Keith Khoza said preliminary information obtained by the party suggested that the men may have planned to blow up the conference, which is being held at the University of the Free State in Mangaung.
The Federal Freedom Party (FFP), which campaigns for the self-determination of South Africa's white Afrikaner minority, confirmed that two of those arrested were its members.
However, it denied any role in the alleged plot.
"We were not involved and do not associate ourselves with their actions," FFP national secretary Francois Cloete told Reuters.
Our correspondent says there is a strong security presence, with police and sniffer dogs checking all cars entering the campus.
In July, a South African court convicted former academic Mike du Toit of treason.
The court ruled that Du Toit, the leader of the Boeremag (Afrikaner power) group, was behind a spate of bombings in 2002 and had also plotted to assassinate South Africa's first black president, Nelson Mandela.
Mr Zuma, who opened the conference on Sunday, is standing for re-election as ANC leader, despite a promise before he became party leader in 2007 that he would step down after one term.
He is the favourite to win, after winning far more nominations than his rival.
Mr Ramaphosa, once a close confidante of South Africa's first black President Nelson Mandela, has given him his support by standing for the party's deputy leadership.
Last week, Mr Motlanthe accepted his nomination to run for a second term as ANC deputy leader.
Mr Ramaphosa, who played a key role in the transition to black-majority rule, is now the favourite to become deputy leader, although ANC Treasurer-General Mathews Phosa and Human Settlements Minister Tokyo Sexwale are also running for the post.
In his opening address in Mangaung, where the ANC was formed a century ago, Mr Zuma said the country was now ready to "move into the second phase, in which we will focus on achieving meaningful socio-economic freedom".
The results of the leadership contest are expected later this week.
Related Internet Links
The BBC is not responsible for the content of external sites.