Abdel Fattah Younes case: Libya tribunal quits in Jalil row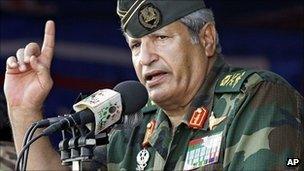 A Libyan military tribunal probing the 2011 murder of rebel commander has quit its inquiry after causing outrage by questioning a popular politician.
The Benghazi military court has sent the Abdel Fattah Younes murder case back to military prosecutors.
The tribunal's questioning of former leader Mustafa Abdel Jalil sparked protests in the capital Tripoli.
Gen Younes was viewed with suspicion by some because of his former closeness to deposed leader Col Muammar Gaddafi.
The commander had been part of the group that helped bring Col Gaddafi to power in 1969.
He served as interior minister before becoming the highest-ranking military leader to defect to the rebel side in February last year.
A few months later, his body was found riddled with bullets on the outskirts of Benghazi.
The fatal shooting occurred shortly after Gen Younes had been issued with a warrant for questioning and recalled from the front line in the city of Brega.
Varying accounts of how he was killed were then given by officials including Mr Jalil, who chaired the now-dissolved National Transitional Council (NTC) when Gen Younes was shot.
One of the tribunal's judges, Abdullah al-Saidi, had caused controversy when he was filmed making a victory sign at the hearing at which Mr Jalil was summoned for questioning.
"The military court in Benghazi has decided to step down from the case," Judge Saidi said in comments carried by the Reuters news agency.
"The military court was surprised by the... attack that was launched against it even though the court was doing its duty."
Of the 11 suspects involved in the case, only one man has so far been charged with the actual killing and remanded in custody.
Earlier this year, a judge investigating Gen Younes's death was gunned down on his way to a mosque in Benghazi.