UN peacekeeper kills colleagues in Darfur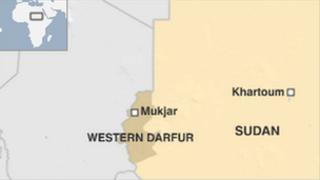 Four UN peacekeepers have been killed and one injured after a peacekeeper opened fire in Sudan's Darfur region.
The incident happened in the Mukjar area, according to spokespeople for the joint UN-African Union mission, known as Unamid.
The exact circumstances of the incident were still being investigated, they said.
More than 16,000 Unamid troops are currently based in Darfur, tasked with protecting civilians since 2007.
It is not clear whether the soldier who opened fire died or was injured.
In October, four peacekeepers were killed and eight wounded in an ambush near the town of Geneina in Darfur.