Nelson Mandela responds to treatment, says President Zuma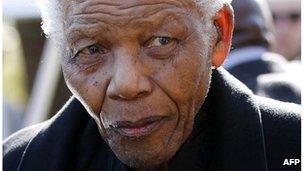 Nelson Mandela is continuing to respond to hospital treatment, the government has said after President Jacob Zuma visited his predecessor.
Mr Mandela was admitted to hospital two weeks ago and has been treated for a lung infection and gallstones.
On Thursday Mr Zuma said the former leader had been seriously ill but was receiving the best possible care.
It looks increasingly likely that Mr Mandela, who is 94, will remain in hospital for Christmas.
Mr Zuma visited him in hospital on Saturday morning, a presidential spokesman says.
"President Zuma assured him of the love and support of all South Africans, young and old, and the whole world," the spokesman added.
Mr Mandela led the struggle against white-minority rule before being elected the first black president in 1994.
He contracted tuberculosis while on the windswept Robben Island where he served 18 of the 27 years he was imprisoned for sabotage.
He has been admitted to hospital three times in the last two years.
Mr Mandela remains an important political symbol in South Africa and Mr Zuma urged South Africans to pray for him.
Related Internet Links
The BBC is not responsible for the content of external sites.