Rebels in Central African Republic take city of Bambari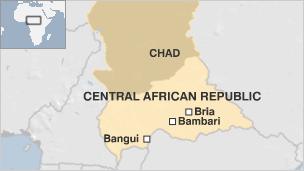 Rebels in the Central African Republic (CAR) have seized the key city of Bambari as part of their offensive against President Francois Bozize.
The city, the third largest in the country, fell into rebels hands after two hours of fighting with government forces, witnesses said.
Bambari is one of several towns recently captured by the rebels - and the nearest one to the capital Bangui.
The rebels accuse President Bozize of failing to honour a 2007 peace deal.
Their move into Bambari comes a day after regional leaders called on the rebels to withdraw back to their original positions and accept talks with the government.
Government minister Josue Binoua said that if the rebels wanted peace, they had to respect the mediation efforts under way and halt their advance, the Associated Press news agency reports.
Observers say the rebels may have decided to push forward in a show of force to put more pressure on the administration before sitting down for talks, the BBC's West Africa correspondent Thomas Fessy notes.
The rebels - known as the Seleka coalition - say the 2007 deal between the government and former armed groups was meant to see the release of political prisoners and payment for fighters who laid down their arms.
Seleka, which is made up of breakaway factions from three of the former armed groups, has pledged to depose Mr Bozize unless he negotiates with them.
They began their campaign a month ago, and have taken several towns in their push towards the capital.
They took the mining town of Bria in a diamond-rich part of the country a few days ago. Bambari is at a key crossroads between diamond mining sites and routes to the east.
A spokesman for the medical charity Medecins Sans Frontieres told the BBC that many people had been displaced by the fighting, including some in areas still controlled by government troops.
Neighbouring Chad, which has helped President Bozize fight several rebellions in the past, has stationed troops just under 200km (124 miles) north of Bangui to act as a buffer force should the rebels continue their advance.
Mr Bozize has been in power since leading a coup in 2003 and winning elections in 2005 and 2011.
The 2007 accord led to rebel forces being integrated into the army.
But some of the rebels have since deserted and taken up arms again.
The CAR is rich in mineral resources, including gold and diamonds, but its population is extremely poor and has suffered a series of rebellions and coups since independence in 1960.