Nelson Mandela to spend Christmas in S Africa hospital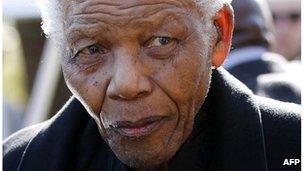 South Africa's first black President Nelson Mandela will spend Christmas in hospital, a government statement has said.
Mr Mandela, 94, was admitted to hospital two weeks ago and has been treated for a lung infection and gallstones.
There is growing concern in South Africa about his health.
Mr Mandela was jailed for 27 years for leading the struggle against white-minority rule.
He is regarded by most South Africans as the father of the nation, having inspired them to fight for democracy.
"Former President Nelson Mandela will spend Christmas Day in hospital, his doctors have confirmed," a government statement said.
The BBC's Karen Allen in Johannesburg reports that with every passing day there is growing public anxiety about Mr Mandela's health.
There was hope that he would be allowed to spend Christmas at home, but his doctors are still not comfortable about discharging him, she says.
Although President Jacob Zuma has described Mr Mandela's condition as "serious", he has tempered this by saying that he has been "responding" to treatment, our correspondent adds.
The government says he is being treated for a recurring lung infection at a hospital in the capital, Pretoria.
He has also had an operation to remove gallstones.
Mr Mandela first contracted tuberculosis in the 1980s while detained on windswept Robben Island prison.
He has been admitted to hospital on three occasions in the past two years.
In January 2011, he was treated for a serious chest infection in Johannesburg.
In February this year, he was again admitted to a Johannesburg hospital because of abdominal pains. He was released the following day after tests revealed nothing serious.
Mr Mandela lives in Qunu, a small rural village in Eastern Cape province, where he says he spent the happiest days of his childhood.
He retired from public life in 2004 and has been rarely seen in public since, though he still receives high-profile visitors.
Former US President Bill Clinton visited Mr Mandela in July.
Mr Zuma has urged South Africans to pray for him.
Mr Mandela served as South Africa's first black president from 1994 to 1999.
Related Internet Links
The BBC is not responsible for the content of external sites.