Calls to re-open Libya plane 'crash' investigation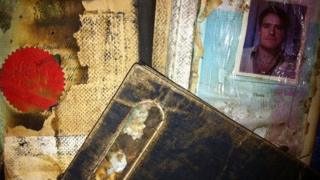 It was the day after the fourth anniversary of the Lockerbie bombing when a Libyan Arab Airlines Boeing 727 disintegrated on its approach to Tripoli airport.
The crash, on 22 December 1992, claimed the lives of all 157 passengers and crew. It was blamed on a mid-air collision with a Libyan MiG 23 fighter jet.
The flight numbers were eerily similar.
The airliner destroyed in Libya was flight 1103. Pan AM flight 103 blew up over Lockerbie in southern Scotland in 1988, an attack for which Libya eventually took responsibility.
The two disasters are, officially, explained in very different ways.
Lockerbie is regarded as a state-sponsored act of terrorism. The loss of flight 1103 was supposedly an accident.
Libyan media said international sanctions imposed on the country after Lockerbie were a contributing factor.
The MiG's military pilot and his instructor, Majid Tayari, were sent to prison.
They were too afraid to tell their side of the story when Col Muammar Gaddafi was in power but that has changed following the Libyan revolution.
'Deliberately destroyed'
After 20 years of silence, Majid Tayari has spoken out in a BBC interview to challenge the official version of events.
"There is no air collision," he said. "We were too close to each other, yes. But there were no air collision."
Mr Tayari is determined to prove he was not responsible for the disaster. He believes the MiG 23 was hit by wreckage from flight 1103.
He says he recalls seeing a separated aircraft tail hurtling towards his jet.
"Right away we were hit from underneath with a very strong shock," he said. "I saw a huge fire and I decided to eject."
Mr Tayari said he spent 42 months behind bars for a crime he did not commit.
The air safety manager with Libyan Arab Airlines in 1992, Mahmud Tekalli, is also sure a mid-air collision was not the cause.
He believes flight 1103 was deliberately destroyed.
"The airplane exploded in mid-air due to explosive devices, possibly put by Gaddafi agents," he told the BBC.
Case closed
Victims' relatives also believe Col Gaddafi was responsible.
They are convinced he wanted the 727 to blow up over the Mediterranean so that he could accuse the US navy of a revenge attack for Lockerbie.
They think a bomb planted on board failed to detonate and that the Libyan leader had the plane shot down and covered up the evidence.
Fathi Haddad, a captain with Libyan Airlines, lost his brother and cousin in the disaster.
He is now part of a campaign for a fresh investigation. "We need to bring those responsible for this criminal act to justice," he said.
Most of the victims aboard the Benghazi to Tripoli flight were Libyans.
Felicity Prazak is the widow of the only British victim.
She was expecting her husband, Victor, who worked in the Libyan oil industry home for Christmas when news of the disaster broke.
"That just sent me into a panic really, into a spiral downhill from then on," she said.
She never saw her husband again. All the victims were soon buried, the wreckage cleared, the case effectively closed.
She was left to bring up their two children, aged three and four, on her own.
The charred remains of her husband's passports were the only items returned to her, years after his death.
No air accident investigation report has ever been published.
Mrs Prazak is convinced her husband died in a twisted plot by the Gaddafi regime.
Investigation call
If it sounds like a conspiracy theory, it is not discounted as such by Libya's new rulers.
Acting President Mohamed Magarief attended an event to mark the 20th anniversary of the disaster.
In his speech, he described the destruction of flight 1103 as a "crime" and promised to seek "justice and compensation" for those who lost loved ones.
Libya's ambassador in London, Mahmud Nacua, confirmed that the new government would respond to calls for the case to be reopened.
"There is no way to avoid demands like that," he said.
The new Libyan government has not specified what action they intend to take to resolve the case.
Mrs Prazak wants an inquiry held in Europe. "Not in Libya," she said. "There are still a lot of ministers that were under Gaddafi."
The MiG pilot, Majid Tayari, also supports an international air accident investigation.
They both believe it would be the best way to establish the truth behind the disaster that families of those killed consider Libya's own Lockerbie.