Libya's liberal NFA group boycotts national assembly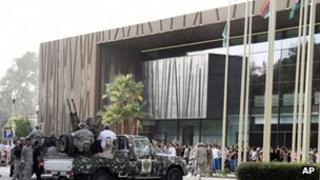 Libya's main liberal coalition has withdrawn from the national assembly to protest against delays in drafting a constitution for the post-Gaddafi era.
Liberal National Forces Alliance (NFA) MP Souad Sultan told the BBC the assembly was failing to meeting the nation's aspirations.
The assembly was elected in July, nine months after long-serving ruler Muammar Gaddafi was killed.
But its MPs are deadlocked over how a constitution should be drafted.
The BBC's Rana Jawad in the capital, Tripoli, says the NFA wants voters to elect a 60-member committee to draft the document.
However, other groups want the 200-member assembly to choose the committee.
The NFA, which is the largest bloc in the assembly, also cited chaotic proceedings and a lack of security at the assembly for withdrawing its MPs.
MPs have been assaulted on several occasions in recent months after protesters stormed sessions of the assembly, our reporter says.
Instability
An MP from the minority Front Party, Mohamed Addarat, said the NFA's withdrawal "doesn't make much of a difference".
The assembly would continue with its work, he said.
Ibrahim al-Gheriani, who heads the NFA bloc, said they were deeply disappointed with the assembly's performance, AFP news agency reports.
However, the NFA hopes to return to the assembly, he said, AFP reports.
"It is a temporary withdrawal until our demands are met," Mr al-Gheriani is quoted as saying.
Libya has been hit by instability since the overthrow and killing of Col Gaddafi in October 2011.
The government has been battling to disarm the militias who battled his government.
Last week, unknown gunmen kidnapped the acting head of the criminal investigation department in Libya's second city, Benghazi, officials have said.
Abdelsalam al-Mahdawi was abducted at traffic lights on his way to work.
In September, the US ambassador Christopher Stevens and three other officials were killed in an attack on the US consulate in Benghazi.