Khayelitsha fire: End to South Africa's shack life?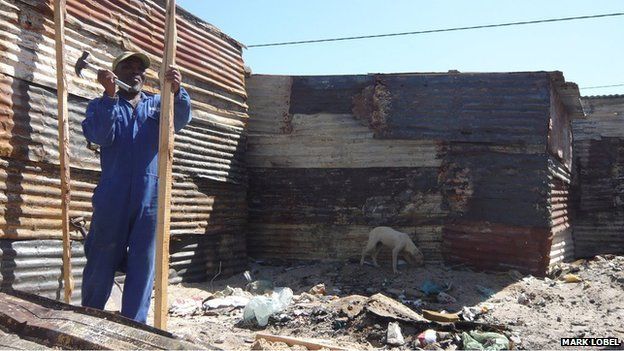 As building gets under way after catastrophic New Year's Day fires in Cape Town's Khayelitsha township, the one thing Eugenie Joki, 54, wants from South Africa's government is a brick house - which she believes would have saved her cousin's life.
Her cousin, a 26-year-old security guard, was killed as flames engulfed his tin shack - one of at least five people killed in the fires.
Khayelitsha - which has a population of about one million residents - does have some brick-built houses but its ever-expanding slum areas, known as informal settlements, are home to about 10,000 mainly unemployed people.
While politicians predict that one of the worst settlement fires in Cape Town's history may signal the beginning of the end of shack life, little seems to have changed on the ground.
Piles of charred debris from the windswept fires that consumed hundreds of makeshift homes on the first morning of 2013 still tarnish the land where thousands of South Africa's poorest people once lived.
One badly damaged plot I approach is silent, bar the sound of one capped man tapping away at a wooden beam.
Alarmingly, all the ingredients that led to the disaster are still clearly visible - with very few there questioning this return to a dire status quo.
The household parts for sale along the road - from the wooden frames and corrugated zinc to the mattresses, carpets and varnished and painted items - are all extremely vulnerable to fire.
The wooden poles and zinc sheets provided by the city's relief workers are a straight match for the frameworks that were destroyed.
Many of the displaced are now holed up in community centres and town halls, living on hand-outs, longing to return to start rebuilding.
Surveying the damage, a drama teacher from the area, Nokuphiwo Jada, says the problem remains a lack of space.
"In that situation, there is just no way to prevent a fire," she told the BBC.
The schools in which Ms Jada works were not affected and are surrounded by adequate firebreaks.
In most of the shack areas, the only amenities provided by the state have been cement-walled toilets, with outside water taps.
In a large sports hall, hundreds of the displaced, some without even ID cards and passports, join together to chant songs of praise.
Standing silently in the corner Mrs Joki looks on wearily and distraught.
She suspects an upturned paraffin-powered barbecue, probably used to cook sausages - there is no electricity in large parts of the slums - started the fire in her area.
It blew over in incredibly strong winds before the fire spread with devastating speed.
As residents ran for safety, grabbing whatever belongings they could in the dark, nobody realised her cousin, who she described as "sweet and humble", was still asleep.
The tragedy could have cost many more lives as lots of dwellers were fortunately away, visiting the Eastern Cape for the holiday season, only to return to find their homes gone.
But the city authorities are determined to stop the haphazard rebuilding beginning in the area in which Ms Joki lives.
Bright yellow bulldozers are busy levelling the most devastated section where 700 families lost everything.
The city's authorities hope a new, ground-breaking housing scheme may soon rise from the ashes.
Cape Town's Executive Director for Safety and Security, Richard Bosman, puts it bluntly: "The challenge is to eradicate informal settlements."
Known as a "re-blocking", the plan is to align the plots in rows, leaving three metres between them for emergency vehicle access and include the provision of essential services.
But the new layout would mean some people would have to be relocated.
That would have to follow lengthy negotiations with the community - as getting residents to agree to break up their social networks, on which some of the poorest greatly depend, would undoubtedly take time.
Were this redesign to succeed, the authorities would hope to replicate it on a mass scale, but even Mr Bosman's most optimistic forecasts suggest it would take five to 10 years.
Until then Mr Bosman stressed the importance of educating people about how to deal with fires - but among the small sample of people I spoke to there was scant evidence such a programme has had any effect so far.
During the tragic start to the new year, fire engines could not get down the main access road as people had piled it with whatever belongings they could grab.
Mr Bosman said it was also crucial to increase employment among the dwellers, pointing out that 10,000 jobs for informal settlers have been created in the city in the last six months as part of an expanded public works programme.
But even in a city he calls "a benchmark" for other places in South Africa, there are huge challenges.
Anywhere where a woman with tuberculosis loses all her medical records while saving her 89-year-old mother and a child from a fire only to have to beg and wait for what may be weeks for the same flammable structure to be reinstated is far from a benchmark.
"I think that's why the city is intervening so strongly," Mr Bosman explained.
"In a sense it is saying: 'Listen, you can't go back to the way you were. You were lucky this time. Next time you are not going to escape. Just think about it.'
"And that's part of the problem - in a week the memories subside - and you click into survival gear, to get back to work and house your kids."
Mr Bosman is optimistic that future negotiations and the success of the re-blocking scheme may yet prove a turning point in shack life.
People who are trying to improve Khayelitsha's housing, like Aaron Hobongwane, are a lot less optimistic.
"The argument is usually lost when residents talk to bureaucrats," he said.
"What needs to happen is better urban planning, as urbanisation is here to stay."
For Ms Joki, her attention is now on preparing for her cousin's funeral, which will be held in the Eastern Cape, with his widow and young daughter also present.
When she returns to Khayelitsha she will continue her wait for a new - hopefully more secure - house.
Related Internet Links
The BBC is not responsible for the content of external sites.