Deadly 'revenge' raid in Kenya's Tana River Delta region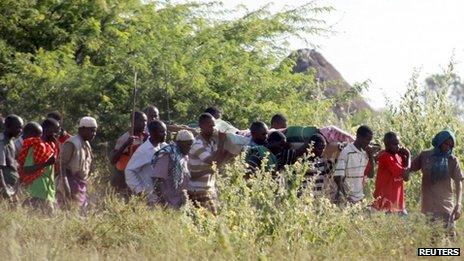 At least 10 people, including five children, have been killed in a dawn raid in south-eastern Kenya in what officials say is a revenge attack.
More people were injured in the attack by suspected ethnic Ormas on a Pokomo village in the Tana River delta region.
Survivors were being treated for gunshot wounds, machete cuts and burns, said Red Cross officials.
The attack on Kibusu village came a day after raiders attacked a nearby Orma village, killing at least six.
The two villages are some 20km (12 miles) apart, with a police road block nearby.
Security had been stepped up after more than 100 villagers died in attacks in the area last year.
The two communities clashed in August after members of the Orma community were accused of grazing their cattle on land that the Pokomo say is theirs.
Settled Pokomo farmers and semi-nomadic Orma pastoralists have clashed intermittently for years over access to grazing, farmland and water in the coastal region.
Tensions between the two communities have risen in recent weeks, and police have been trying to disarm them.
But some say the raids are political - elections are due in March.
Following the violence in August and September, an MP from the region, Assistant Livestock Minister, Dhadho Godhana, was arrested for inciting violence. He denies the charges.
The UN says the clashes may be related to the redrawing of political boundaries ahead of the general election.
The last election in 2007 was marred by widespread clashes, in which more than 1,300 people were killed.
Four prominent Kenyans have been charged by the International Criminal Court over that violence.
Two of them have formed an alliance to contest the March election - their trial is due to begin a month later in The Hague.
Related Internet Links
The BBC is not responsible for the content of external sites.