Zimbabwe: Human Rights Watch fears over free 2013 poll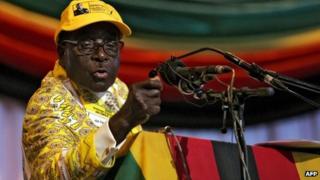 Zimbabwe has failed to make the key reforms needed to ensure a free and fair presidential election later this year, a Human Rights Watch report says.
This has provoked fears of a replay of the violence surrounding the 2008 poll, the US-based rights group says.
It said time was running out for the unity government to implement legal and institutional reforms, including a new constitution.
President Robert Mugabe has sweeping powers under current laws.
Mr Mugabe signed a coalition pact following the 2008 elections with the Movement for Democratic Change, whose leader Morgan Tsvangirai had pulled out of the run-off vote, citing political violence.
Mr Tsvangirai is now prime minster but their four-year alliance has been marked by frequent disagreements.
'Outmanoeuvred'
According to Human Rights Watch, the pact underpinning the power-sharing government was not entirely incorporated into law meaning "it remains a document of political aspirations with no legal status, dependent on political will for enforcement of its provisions".
Its 28-page report, Race Against Time: The Need for Legal and Institutional Reforms Ahead of Zimbabwe's Elections, explains that the timing of the elections is governed by the current constitution.
"If elections are not held in March as Mugabe has indicated, the latest they can be held constitutionally is 29 October 2013," the Human Rights Watch report says.
As well as failing to reform key laws, like the public order, security and information acts, Human Rights Watch says there have been no changes to the justice system "which remains extremely partisan towards Zanu-PF".
The unity government has also failed to hold accountable those responsible for past human rights abuses, including those committed during the last election, the report says.
The security forces, election bodies and state broadcasters are also politically partisan, remaining loyal to Mr Mugabe and Zanu-PF, it adds.
"To hold credible, free, and fair elections in 2013, Zimbabwe's government needs to level the political playing field and create a rights-respecting environment now," Daniel Bekele, Africa director at Human Rights Watch, said in a statement.
"This means amending repressive laws and replacing partisan police chiefs and election officials with impartial professionals," he said.
Over the last four years, the power-sharing government has managed to halt hyperinflation and brought relative economic stability to the country.
But BBC Africa correspondent Andrew Harding says the MDC appears to have been outmanoeuvred on many fronts by Zanu-PF.
Much will now depend on how much pressure Zimbabwe's neighbours, especially South Africa, are prepared to exert on President Mugabe, he says.
Human Rights Watch urged donors and the regional body Sadc, which has been mediating the Zimbabwe crisis for the last few year, not to "shy away from using sanctions on individuals and other measures to improve respect for human rights in Zimbabwe".