Central African Republic rebels 'agree one-week truce'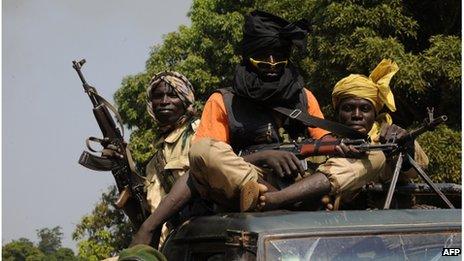 Rebels fighting the government in the Central African Republic say they have agreed to a conditional, one-week ceasefire following talks in Gabon.
The rebels said they wanted the departure of South African troops and the release of political prisoners in return for the truce.
The Seleka rebel alliance took control of northern and eastern CAR in a four-week offensive starting on 10 December.
They accuse President Francois Bozize of breaking previous peace deals.
"We are going to agree in principle to a one-week ceasefire," said rebel spokesman Florian Ndjadder.
He said the ceasefire would allow the rebels to "test the good will" of Mr Bozize.
The rebels, who have previously demanded the president's resignation, also said they wanted a new prime minister to be nominated from the opposition, and posted further demands.
"The mercenaries from South Africa must leave Central African territory, the political prisoners must be freed without conditions during the same period," Mr Ndjadder said.
South Africa has begun sending some 400 troops to help stabilise CAR. Forces from neighbouring countries have also been sent.
Both the US and France, the former colonial power, have turned down government pleas for help against the rebels.
The rebels only halted their advance 100km (60 miles) from Bangui after the regional peacekeeping force was deployed.
It is the biggest threat Mr Bozize has faced since he took power in a coup in 2003.
CAR is one of the poorest countries in Africa, despite its considerable mineral resources.