Algeria crisis: Hostage death toll 'could rise'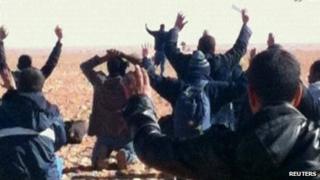 The death toll of foreign and Algerian workers taken hostage during a siege at a desert gas facility may rise from 23, an Algerian minister has warned.
A final tally would be released in the coming hours, communications minister Mohammed Said told Algerian radio.
British, US, Norwegian, and Japanese nationals are among the missing after the siege at In Amenas, which was ended by an Algerian army raid on Saturday.
Algeria said its troops had killed all 32 hostage-takers.
Officials said the army launched its assault after Islamist militants began killing foreign hostages.
Mr Said said he very much feared the death toll "would, unfortunately, be revised upwards".
He added that the militants were from six different countries, "nationals of Arab and African countries, and of non-African countries".
Unconfirmed reports from In Amenas spoke of a number of bodies discovered by troops making the site safe.
UK Prime Minister David Cameron and US President Barack Obama have blamed "terrorists" for the hostages' deaths.
Mauritanian website Sahara Media says Mokhtar Belmokhtar, the suspected organiser of the siege, has claimed responsibility for it in a video message.
It said the video - recorded on 17 January while the siege was still going on but not posted on the website - showed the militant leader saying he was prepared to negotiate with Western and Algerian leaders if operations against Islamists in Mali were stopped.
Missing
Three Britons are confirmed dead, and a further three are missing, feared dead. Their families had undergone an "absolutely dreadful ordeal", Mr Cameron said on Sunday.
UK officials were "working hard" to locate the missing, said Foreign Secretary William Hague.
"Everything seems to indicate" that a Colombian citizen resident in the UK is among the dead, the Colombian president has said.
But he added that information about Carlos Estrada, who worked for BP, was "not 100%".
Japanese Prime Minister Shinzo Abe warned of bad news to come.
"According to what we have heard from the Algerian government, there is indeed grim information about our citizens," he said.
Mr Abe said he had asked the Algerian prime minister to make all efforts towards confirming the status of Japanese nationals.
Two Malaysians are unaccounted for, as are five Norwegians.
"This attack is another reminder of the threat posed by al-Qaeda and other violent extremist groups in North Africa," said Mr Obama on Saturday.
"We will continue to work closely with all of our partners to combat the scourge of terrorism in the region."
Mr Cameron called it a "vicious and cowardly attack". He acknowledged there had been some criticism of the Algerian authorities' response, but said it was "extremely difficult to respond and get this right in every respect".
Mortars and RPGs
State news agency APS said 685 Algerian workers and 107 out of 132 foreigners working at the plant had been freed, citing interior ministry figures.
The nationalities of some of the hostages killed are still not known.
The UK Foreign Office has confirmed that some British nationals caught up in the Algerian hostage crisis returned home overnight.
No details were released, but a spokesman said the foreign secretary would give an update later on Sunday.
The crisis began on Wednesday when militants attacked two buses carrying foreign workers to the remote site in south-eastern Algeria. A Briton and an Algerian reportedly died in the incident.
The militants then took Algerians and expatriates hostage at the complex, which was quickly surrounded by the Algerian army.
A statement from the kidnappers said the assault on the gas plant was launched in retaliation for French intervention against Islamist groups in neighbouring Mali.
However, France only decided last week to intervene militarily in Mali. Analysts say the assault on the gas facility was well-planned and would have required advance research, as well as possibly inside help.
The leader of the hostage-takers was a veteran fighter from Niger, named as Abdul Rahman al-Nigeri by the Mauritanian news agency ANI, which had been in contact with the militants.
The Algerian armed forces attacked on Thursday as militants tried to move some of their captives from the facility.
'Suitable' response
APS reported before Saturday's second raid that a group of militants remained holed up in a workshop with the remaining hostages.
After the raid, the Algerian interior ministry said troops had recovered:
six machine guns
21 rifles
two shotguns
two 60mm mortars with shells
six 60mm missiles with launchers
two rocket-propelled grenades with eight rockets
10 grenades in explosive belts
One Algerian worker, who gave his name only as Chabane, told the Associated Press that at one point the militants caught a man he described as a Briton.
"They threatened him until he called out in English to his friends, telling them, 'Come out, come out, they're not going to kill you. They're looking for the Americans'," Chabane told AP.
"A few minutes later, they blew him away," he said. Chabane's account could not be independently confirmed.
The In Amenas gas field is situated at Tigantourine, about 40km (25 miles) south-west of the town of In Amenas and 1,300km (800 miles) south-east of Algiers.
The plant is jointly run by BP, Norway's Statoil and Algeria's state-owned oil company.
Bus attack: 05:00 local time 16 January: Heavily armed gunmen attack two buses carrying gas field workers towards In Amenas airfield. A Briton and an Algerian die in the fighting.
Hostages taken: The militants drive to the installation at Tigantourine and take Algerian and foreign workers hostage in the living area and the main gas facility at the complex.
Army surround complex: Security forces and the Algerian army surround the hostage-takers. Western leaders, including the UK's David Cameron, urge Algeria to consult them before taking action.
Army attacks: 12:00 (13:00 GMT) 17 January: Algerian forces attack as militants try to move some of their captives from the facility. Reports say some hostages escape, but others are killed.
Final assault: The Algerians ended the raid on 19 January, killing the last 11 captors after they had killed seven hostages, state media reported. At least 23 hostages and 32 militants in total are now known to have died.