Ivory Coast: ITRI oil tanker 'seized off Abidjan'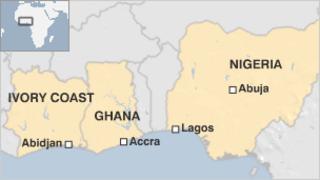 Armed men have seized an oil tanker off Ivory Coast's main city, Abidjan, officials say.
The Panamanian-flagged vessel, ITRI, was attacked on Wednesday as it prepared to deposit 5,000 tons of oil, officials said, releasing the information for the first time.
Pirate attacks have sharply increased in recent years off West Africa.
But most of these have taken place off the Nigerian coast, where oil is often stolen to be sold on the black market.
Ivorian-based shipping company Koda Maritime's deputy director Serge Constant told the BBC that 16 Nigerian crew were on board the ITRI boat, when it was seized by pirates.
The attackers had fled with the vessel, which was now in Ghanaian waters, he said.
"We are getting contradictory information about police operations so we don't know what's exactly going on", he said. "But it's now certain that the tanker has been taken into Ghanaian waters".
However, Ghana Maritime Authority head Peter Azumah told the BBC that there had been no sighting of the ship in Ghanaian waters.
The first recorded vessel hijacking off Ivory Coast was in October 2012 when 14 men armed with AK-47 rifles and knives boarded a tanker carrying 30,000 tons of gasoline.
The crew was later released unharmed.