Ivory Coast charges Gbagbo loyalist Charles Ble Goude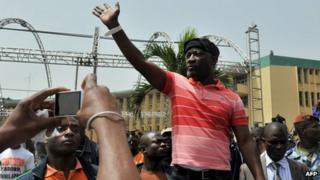 Ivory Coast's former youth minister and ally of ex-President Laurent Gbagbo, Charles Ble Goude, has been charged with war crimes, murder and theft of public funds.
Last week Mr Ble Goude was extradited to Ivory Coast from Ghana.
Mr Ble Goude denies leading pro-Gbagbo militias who attacked foreigners and northerners during the unrest which followed disputed elections in 2010.
He had gone into hiding in April 2011, when Mr Gbagbo was arrested.
The former president is now awaiting trial at The Hague on charges of crimes against humanity.
"[Mr Ble Goude] is currently before a judge for his hearing... The charges were war crimes, murder, economic crimes and kidnapping," state prosecutor's spokesman Habiba Coulibaly told Reuters.
The Ivorian Popular Front (FPI), Mr Gbagbo's party, condemned the charges in a statement and called for Mr Ble Goude's "immediate release" in order to improve the prospects of talks being held between the FPI and the government.
'Bare-handed'
Some 3,000 people lost their lives in the four-month crisis after Mr Gbagbo refused to accept defeat.
Last year, Mr Ble Goude told the BBC that, as head of the Young Patriots group, he had only organised rallies and meetings and had never run a militia.
"I am not chief of militia - I've never bought weapons, we went to the streets against those who had weapons, we were bare-handed," he said.
He said he was ready to go the International Criminal Court (ICC) in The Hague to clear his name if that is what it took.
Mr Ble Goude was first put under UN sanctions in 2006, accused of inciting attacks against UN personnel.
During the unrest, people from northern Ivory Coast were seen as supporters of Mr Gbagbo's rival, President Alassane Ouattara.