South African crocodiles hunt 'continues by night'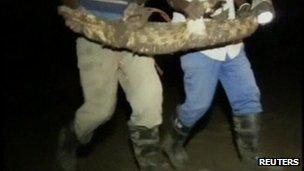 The hunt for thousands of crocodiles which escaped from a farm in South Africa on Sunday is continuing, mainly at night, one of the farmers has said.
Some 2,000 have been recaptured but as many as 10,000 crocodiles could still be on the loose near the Limpopo River.
Surging waters forced the farm, usually home to 15,000 crocodiles, to open flood gates to stop them being crushed.
A police spokesman told the BBC farm workers were hunting them down alone as no request had been made for help.
It is difficult to get exact numbers from the owners of Rakwena Crocodile Farm about how many of the crocodiles initially escaped into dense bush and the Limpopo River, the second biggest in South Africa.
Hangwani Mulaudzi, police spokesman for the Limpopo province, said no crocodile attacks had been reported in the area - in the far north of South Africa, near the border with Botswana.
But villagers had been warned not to try and capture a crocodile on their own, he said.
Neither the police nor army were involved in the search for the roaming reptiles - and an official request would have to be made by the farm to involve the armed forces, which had not happened, Mr Mulaudzi said.
Cathy Mohlahlana, a reporter for South Africa's ENCA television, told the BBC from Pontdrif, a small town near the farm, that 2,050 crocodiles had been captured so far.
Teams from the farm have been going out every night in search of the animals.
Video from the scene shows people tracking down crocodiles measuring about two metres, and tying their limbs with twine.
Zane Langman, who works at the farm owned by his in-laws, said the crocodiles tend to be more active at night as they move about looking for water.
"At night time we have more success and we can see their red eyes - it's much easier to see them. They are reasonably active so you have to jump on them and catch them," he told ECNA.
South Africa's Beeld newspaper quoted Mr Langman as saying that some of the crocodiles had been recaptured on a school rugby pitch in Muskina, a town on the border with Zimbabwe about 120km from the farm.
The crocodiles on the Rakwena Farm are mostly bred for their skin, which is exported to Europe and parts of Asia to make shoes, jackets and handbags.
It is also a tourist attraction with visitors able to go on guided crocodile tours.
Heavy rains are affecting other parts of northern South Africa - and the air force has been used to rescue people affected by the flooding in remote settlements, some of which are cut off from the outside world.
The floods have also affected neighbouring Mozambique, where tens of thousands of people have been evacuated from their homes.
Related Internet Links
The BBC is not responsible for the content of external sites.