Two killed in 'militant attack' on Algeria pipeline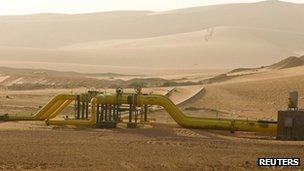 Two guards have been killed in an attack by militants on a gas pipeline in northern Algeria, officials say.
Seven others were wounded when the Ain Chikh pipeline in the Djebahia region, some 120km (75 miles) east of the capital, Algiers, was blown up.
The area is a stronghold of al-Qaeda in the Maghreb (AQIM), but militants rarely carry out attacks there.
Earlier this month, at least 37 foreign workers were killed when militants seized a gas plant in eastern Algeria.
An Algerian national and nearly 30 militants also died during a military operation to retake the In Amenas facility, where the foreigners were held being hostage along with hundreds of local workers.
The hostage-takers were reportedly led by Mokhtar Belmokhtar, a former commander of AQIM who set up the Signed-in-Blood Battalion last year.
The Djebahia attack took place late on Sunday. The extent of damage to the pipeline is not yet clear.
Residents quoted survivors as saying that an "armed Islamist group" had attacked a group of local guards protecting the pipeline.
Two guards were killed and five of their colleagues suffered gunshot wounds following an hour-long firefight, they added.
The army launched an immediate search of the area to find the assailants, but there have been no reports of any arrests.
The pipeline carries gas from the Hassi R'Mel field in the Sahara desert to the Mediterranean coast for refining, according to the AFP news agency.
Oil and gas reserves are the backbone of Algeria's economy, supplying large amounts of natural gas to Europe.