Four killed in Senegal's Casamance region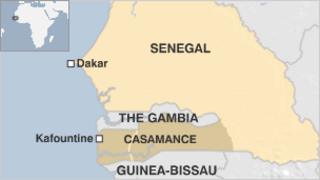 At least four people, including a Frenchman, have been killed in a raid on a bank by suspected separatist rebels in Senegal's Casamance region.
The Senegalese army said rebels from the Casamance Movement for Democratic Forces attacked Credit Mutuel bank in Kafountine on Friday.
It was not clear how the civilians, including the Frenchman, were killed.
The rebels have been fighting for independence in a conflict which has killed thousands since 1982.
If confirmed, Friday's attack would be the deadliest attack since President Macky Sall came to power in March 2012, according to AFP news agency.
Unnamed army officials told AFP three civilians - including the Frenchman - died when the MDFC rebels raided the bank.
Two rebels were killed when soldiers arrived and a clash ensued, they added.
Another military source told Reuters news agency four people were killed in the shoot-out, including a Frenchman.
The source said the French victim had lived in Casamance and was married to a Senegalese woman.
Thousands of people have been killed since 1982 when the rebel MDFC began its fight for independence for the southern region of Casamance.