China 'smuggles' Mozambique timber - EIA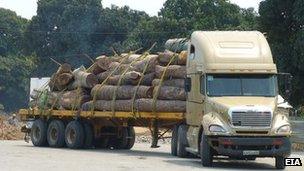 Nearly half of the timber exported from Mozambique to China is illegal, a pressure group has said.
The Environmental Investigation Agency (EIA) said its investigation showed that Mozambican politicians and Chinese traders were systematically involved in timber smuggling and illegal logging.
This has caused Mozambique to lose tens of millions of dollars a year in tax revenues, it added.
Mozambique is one of the world's poorest countries.
However, its economy has been growing rapidly since the civil war ended in 1992.
Many foreign companies, including Chinese-owned, are tapping into its natural resources, although critics say that most poor people are not benefiting from the surge in business.
The EIA said its undercover investigation showed that China's demand for raw timber was having a devastating impact on Mozambique, and over the past six years there had been a clear pattern of illegal logging and timber smuggling.
High-level politicians, working with Chinese traders, were continuously breaching Mozambique's export and forest laws, the EIA added.
Of all the Mozambican timber exported to China last year, 48% was thought to have come from illegal logging, resulting in a loss of tens of millions of dollars a year in tax revenues, it said.
The EIA said the Mozambican government should introduce an immediate timber export ban, and investigate corruption in the forestry sector.
Related Internet Links
The BBC is not responsible for the content of external sites.