Nigerians elated after Africa Cup football win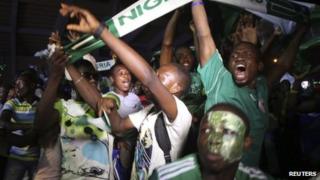 When the goal went in, the roof came off at this bar in Lagos.
The dancing was so enthusiastic that when people sat down and saw a television replay, some Nigerians thought they had gone 2-0 up and started another celebration.
Prior to the game, I failed to find a single person who thought Burkina Faso had a chance.
The predictions ranged from the generous, who thought the Super Eagles would win on penalties, to the outrageously optimistic, who thought the Burkinabe goalkeeper would be picking the ball out of his net six times.
The near-misses were greeted by increasing frustration but, as people watched images of the trophy being held aloft by the Nigerian team, there were proud smiles in Lagos. Plenty of beer bottle tops flew off - champagne corks too, no doubt.
'Kings of Africa'
"God gave us the victory and we are the Kings of Africa," said a student called Apostle Paul.
"I was very young when we won in '94 but the memory has stayed until today. With this team we have a new future for Nigerian football. The team is very young," he added.
"Honestly, I was afraid to watch the match but now I am happy. I am cool," said a much-relieved Al Haji Sarki.
After a lengthy success drought, few Nigerians had pinned much hope in the side.
Some of the harsher critics saw them not as Eagles but as young chicks that would never fly. Nigerians have been disappointed too many times before.
"I am one of those very few Nigerians who knew we were going to win even before the tournament started," said investment banker Simon Oluwole Akala.
"I have been following proceedings. I woke up at 02:00 to watch the friendly matches and I knew we had got it right."
"This is the third time in my life that we are winning it. Any time Cameroon doesn't come to the Nations Cup, we win the trophy," he added, before comparing the wins.
"In '94 we had a very good team that was good enough to win the World Cup and I am sure you are aware of that."
African football
For coach Stephen Keshi, this completes a remarkable journey.
The former defender lifted the African Cup of Nations in 1994 and now, 19 years later, is bringing the trophy home as the manager.
"A wonderful night. I want to say want to say one thing to Burkina Faso - rest in peace," said one of the few women in the bar which was forced to lock its gate when it was at full capacity.
"This week I am going to wear the Nigerian flag. Nigerian flag, Nigerian flag," said Michael, beer in hand.
"They are professionals. They know how to play African football. I feel elated. I wish there had been more goals but I'm just happy we made it," he added.
Nigeria's arch-rivals along the coast, Ghana, will be hurting but they can still brag that the Black Stars are 4-3 up on trophy wins.
As Nigeria narrows the gap, this is where the party is.
When the final whistle blew, one man threatened to strip off and jump in the lagoon.
Luckily for him, and for us, he changed his mind and bought another drink instead.