Mali troops in house-to-house search for Gao militants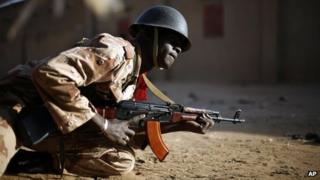 Malian troops are carrying out house-to-house searches following running battles with Islamist militants in the northern town of Gao on Sunday.
There are fears some fighters could be hiding among the population, the BBC's Thomas Fessy reports from Gao.
He said Gao was calmer now following Sunday's surprise attack by militants on Malian troops in the town.
Islamist militants were driven out of Gao two weeks ago in an offensive by French and Malian troops.
But they are reported to have re-entered the town using wooden boats to cross the Niger River, and re-grouped in a building they had previously used as the headquarters of the Islamic police.
French bombing
Sunday's fighting lasted for about four hours. Suspected suicide bombers reportedly tried to reach the positions of the Malian army, while other militants were said to be riding with explosives on motorcycles around town.
It was only when the troops came under fire from heavier weaponry, including rocket-propelled grenades, that French troops sent in armoured vehicles and attack helicopters to provide back-up, our correspondent says.
The police station was bombed by a French combat helicopter overnight.
France said only a dozen extremist fighters had taken part in Sunday's clashes and it is not known whether any of them were killed.
Three civilians died of their injuries at the hospital, where family members went to collect the bodies.
Nine others, as well as two Malian soldiers are being treated for bullet wounds.
The city's main market remained closed on Monday, following the violence.
Two checkpoints in Gao were hit by suicide bomb attacks on Friday and Saturday.
The Movement for Oneness and Jihad in West Africa (Mujao) has claimed responsibility for the weekend's violence.
On Saturday, Mujao spokesman Abou Walid Sahraoui said: "We are dedicating ourselves to carrying out more attacks against France and its allies."
France sent some 4,000 troops into northern Mali on 11 January to help the Malian army oust the militants from several towns they had taken over.
They had met with little resistance until the recent attacks in Gao.