Reeva Steenkamp: Oscar Pistorius's girlfriend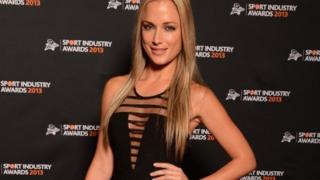 Reeva Steenkamp, a model and celebrity in South Africa, has been shot dead in Pretoria, by her boyfriend, Paralympic athlete Oscar Pistorius.
Ms Steenkamp, 29, had been about to appear in a celebrity TV reality show called Tropika Island of Treasure.
In publicity for the programme, she had said her personal claims to fame were that she was named by men's magazine FHM as one of the "100 sexiest women in the world two years running", appearing on the December 2011 cover of the magazine and graduating in law from the Nelson Mandela Metropolitan University in Port Elizabeth, where she had grown up.
She had moved to Johannesburg in 2007 after she was chosen to become the first face of Avon cosmetics in South Africa, her profile on the show's website says.
She went on to appear in many campaigns and commercials and had presented some TV shows.
"She was definitely destined for success," her publicist Sarit Tomlinson, from Capacity Relations, told the BBC.
"She was a gorgeous girl both inside and out, and also had a brain... she had an incredible entrepreneurial spirit."
Her family were "shocked and devastated", Ms Tomlinson said.
"She was an absolute angel - the sweetest, sweetest human being, kind human being, it's very, very sad."
'Fabulous relationship'
Ms Steenkamp was first spotted with Oscar Pistorius at the South African Sports Awards in November 2012, when the model said they were just friends, South Africa's Mail and Guardian reports.
The couple had been dating for a couple of months, Ms Tomlinson told Sky News.
"It's been a healthy fabulous relationship," she said.
The model was an active Twitter user, where she described herself as "SA Model, Cover Girl, Tropika Island of Treasure Celeb Contestant, Law Graduate, Child of God".
The day before the shooting, she had said how much she was looking forward to Valentine's Day.
"What do you have up your sleeve for your love tomorrow??? #getexcited #ValentinesDay," she tweeted.
Earlier that day she had said she was enjoying a smoothie with her boyfriend: "It's a beautiful day! Make things happen. Starting my day off with a yummy healthy shake from my boo :) #healthyliving."
The reality TV show she took part in was filmed on a tropical island and pits seven celebrities and seven other players against one another to win 1m rand ($113,000, £72,600).
During each episode they play a game, the winner of which is able to kick off one of the other contestants.
"We are deeply saddened and extend our condolences to Reeva's family and friends," a statement on the show's website says.
For the show, she was asked to describe herself in three words. "Brainy, blonde, bombshell," she said.
She also had a passion for cars and cooking and at the weekends preferred to read a book and spend time with her friends and family, her Tropika Island of Treasure profile said.