Nigerian singer Susan 'Goldie' Harvey dies in Lagos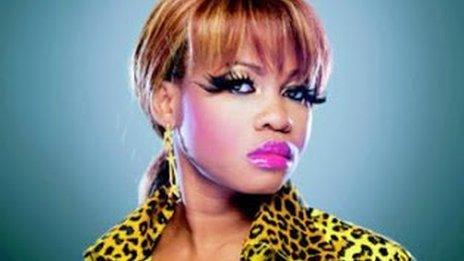 Nigerian pop singer Susan Oluwabimpe "Goldie", Harvey, has died after a sudden illness, her manager says.
Her record label said Miss Harvey, 31, had complained of a severe headache shortly after returning to Nigeria from the US where she had attended the music industry's Grammy Awards.
The star was rushed to a hospital in Lagos, where she was pronounced dead.
Goldie had won several industry awards and appeared in last year's celebrity Big Brother Africa TV show.
BBC Africa producer Fidelis Mbah says the programme stirred controversy with some Nigerians who said she did not portray the country's culture in a positive light as she came across as too Western.
Others criticised the musician for her on-off romance with a fellow housemate, the Kenyan rapper Prezzo - but she remained hugely popular with young audiences, he says.
A message posted on her Facebook page on Thursday evening said: "It is with heavy heart that I have to inform you all that Goldie passed this night shortly after arriving Lagos from LA. May her soul rest in the eternal peace of the Lord - Admin."
Kenny Ogungbe, the head of her music label, Kennis Music, said she had "an abundance of talent" and it was a "gloomy moment" for Nigeria's music industry.
She was also enjoying popularity across Africa, he said in a statement.
Her three latest singles from a forthcoming album, African Invasion, were "presently enjoying heavy rotations on radio and TV stations across the continent", Mr Ogungbe said.
Related Internet Links
The BBC is not responsible for the content of external sites.