Talks to create new Tunisia government 'have failed'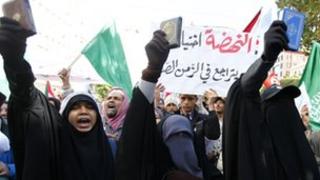 Talks on the creation of a new government in Tunisia have failed, Prime Minister Hamadi Jebali has said .
Mr Jebali's plan to form a cabinet of technocrats has been rejected by his Ennahda party.
But "another form of government" was still an option, said Mr Jebali who is due to meet the president on Tuesday.
The country has been in political crisis since the killing of opposition politician Chokri Belaid on 6 February triggered mass protests.
The crisis led to resignations from the coalition government.
Mr Jebali has previously threatened to resign if his Islamist party blocked his solution to the political crisis sparked by the assassination of Mr Belaid.
'Noted progress'
However, the prime minister did not comment on whether he planned to step down following Monday's failure to reach a compromise.
Instead he said that "getting everyone around a table" had successfully prevented Tunisia "from falling into the unknown".
"I say in all clarity that the initiative I presented - that is to say, a government composed of members not belonging to any political parties - failed to reach a consensus," he said.
"But I noted progress during the political discussions in terms of seeking a consensus around another solution."
He is scheduled to meet President Moncef Marzouki on Tuesday to discuss the next stages.
A spokesman for Mr Marzouki said an agreement had been reached for "the formation of a mixed government" of politicians and technocrats, without elaborating further.
Meanwhile Ennahda's leader Rached Ghannouchi said all parties involved in Monday's talks had agreed they wanted Mr Jebali to remain in office.
On Saturday, Mr Ghannouchi had called on the National Constituent Assembly (NCA) to "complete the constitution as soon as possible and thus pave the way for free and fair elections".
Tunisian media has expressed deep concern over the ongoing uncertainty.