South Africa's ANC dismisses Ramphele's Agang party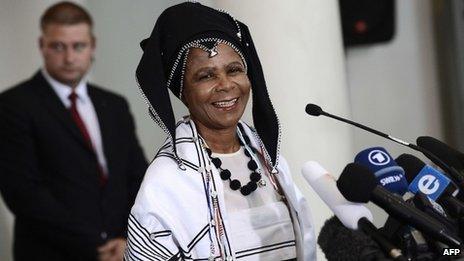 South Africa's governing African National Congress (ANC) has dismissed the launch of a new party by former businesswoman Mamphela Ramphele.
The ANC said Ms Ramphele was "goading" South Africans to be on the political periphery.
On Monday, she launched the Agang party, "Let's Build" in the Sepedi language, saying South Africans were hungry for change.
The ANC will seek to extend its 19-year rule in next year's election.
Analysts say it is likely to win the election as the opposition is weak and divided.
The ANC won the 2009 election with 65.9% of the vote. A breakaway party, the Congress of the People (Cope), failed to make a significant impact, analysts say.
Ms Ramphele said she was launching Agang to end ANC rule.
"Corruption, nepotism and patronage have become the hallmarks of the conduct of many in public service," she said.
Ms Ramphele, a former World Bank managing director and anti-apartheid activist, also criticised education standards in South Africa.
"It is woeful, shameful that we should have such low expectations of young South Africans that we are prepared to accept 30% as a pass mark for school leavers."
ANC spokesman Jackson Mthembu said the party had noted reports that Agang was fund-raising in foreign countries, including the US.
"We just hope that the pumping of foreign funds in South Africa will not undermine the further democratisation and transformation in our country," he said.
The ANC believed that Ms Ramphele was "grievance-driven", and had failed to offer solutions to problems that South Africa faced, Mr Mthembu added.
"We welcome her to the political environment and we hope that she has the necessary staying power. We will meet her where it matters most in the hearts and minds of our people," he said.
South African political commentator Justice Malala told the local Mail and Guardian newspaper that he doubted the new party would threaten the ANC's power.
"One individual just won't cut it," he is quoted as saying.
"I don't think that there's been enough organisational work done, and party politics is about organisational work. It's about who can get people to the voting stations."
Last week, Ms Ramphele resigned as chairperson of leading gold miner Gold Fields to prepare for her entry into politics.
She was also a prominent anti-apartheid activist during white minority rule, and had a relationship with Black Consciousness leader Steve Biko, who died in detention in 1977.
The main opposition Democratic Alliance (DA) party said it shared the values of non-racialism and constitutionalism with Agang.
"Her move is another step in the long process of realigning South African politics around these values," it said in a statement.
Related Internet Links
The BBC is not responsible for the content of external sites.