Nigeria charges Russian 'gun dealers'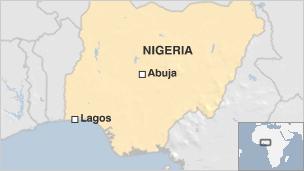 Fifteen Russian sailors have been charged in a court in Nigeria's main city, Lagos, with illegally bringing weapons into the country.
The crew of the MV Myre Seadiver were denied bail by the High Court, pending a final ruling on Monday.
The Nigerian navy had seized the ship, owned by Moscow-based security firm Moran, last October.
Moran has said the ship had permission to carry arms and had stopped in Lagos to change crew.
The vessel had been travelling from Madagascar to Guinea when it was seized by the Nigerian navy, the company said at the time.
The cargo included 14 AK-47 rifles with 3,643 rounds of ammunition as well as 22 Benelli MR1 rifles with 4,955 rounds of ammunition.
The navy said the vessel was travelling under a Dutch flag while Moran says the boat had a Cook Islands flag.
'Diplomatic intervention'
The ship had no permission to enter Nigerian waters or to carry arms, the navy said.
Arms smuggling is a flourishing enterprise in Nigeria, which is battling an Islamist insurgency in the north of the country, and oil thefts and piracy in the south-east.
Lagos High Court Judge Okechukwu Okeke temporarily denied the sailors bail, with a final ruling on their bail application set for 25 February, AFP news agency reports.
In December, Russia's foreign ministry said Nigeria had agreed to drop the case to maintain cordial relations between the two nations, it reports.
However, the deal, if it existed, appears to have been ignored, AFP adds.
Related Internet Links
The BBC is not responsible for the content of external sites.