French Cameroon hostages 'not released'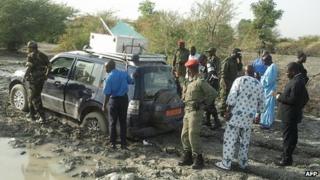 The French foreign ministry has denied reports that a French family, kidnapped in Cameroon this week, have been freed.
Their supposed release dominated French media reports on Thursday, after a Cameroonian military source said they were "safe and well".
A French minister confirmed the news - but then was forced to backtrack.
France's government believes the family of seven, including four children, may have been taken by the violent Nigerian Islamist group Boko Haram.
The family - a couple, their children aged five, eight, 10 and 12, and an uncle - were snatched on Tuesday in northern Cameroon by six gunmen on three motorbikes, the French news agency AFP reports.
They had been returning from a visit to Waza National Park - which is described as a beautiful landscape, trodden by giraffes, elephants and antelopes - where they had spent the previous night.
The family are reported to live in the Cameroonian capital, Yaounde, where the father worked.
Urged to leave
The French government has said it believes they were taken across the border into Nigeria following their abduction, probably by Boko Haram.
On Thursday morning French media began to report that they had been found in Nigeria.
"They were found abandoned in a house in Dikwa" in Nigeria, about 100km [60 miles] from the border with Niger, a senior Cameroonian officer told AFP.
"They are in the hands of the Nigerian authorities."
The French veterans minister Kader Arif confirmed the news, but then backtracked, saying there was no official confirmation.
Cameroon's Communications Minister Issa Tchiroma Bakary then said: "It is a wild rumour. If this was true, the Cameroonian government would have already given the information to France," AFP reported.
After some hours, the French foreign ministry said in a statement that it formally "denied the information that the French hostages had been released".
On Wednesday, France urged its citizens to leave north Cameroon "as quickly as possible".
The French foreign ministry said on its website citizens were "officially advised not to go to the far north of Cameroon (the shores of Lake Chad in the South Maroua), and the border with Nigeria, until further notice".