African viewpoint: Dying to be armed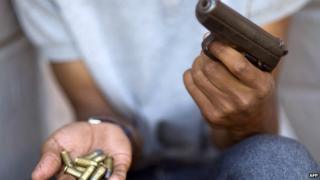 In our series of viewpoints from African journalists, film-maker and columnist Farai Sevenzo considers the implications of owning firearms.
"No more drama," a black Diva once sang in a song of personal reproach, "no more games."
The drama of the last 10 days was born in a land of soap operas and guns, where the statisticians tell us there are 12 guns for every 100 people; where the Bold and the Beautiful sit happily with local soaps like Generations and Scandal and the plot lines are as intricate as the characters are shallow.
Not so the drama on Valentine's Day in a gated community of wealthy home owners in Pretoria, South Africa.
The killing of a young woman at the hand of her famous athlete boyfriend has had South Africa gripped and the world at large awash with theories about what really happened in Oscar Pistorius' home in the dark before dawn when Reeva Steenkamp died from bullet wounds.
Also under world scrutiny was South Africa's legal system - would it hold under the strain of expectations, would there be one law for the rich and famous and would Mr Pistorius be granted bail?
The story took over the front and back pages from the Cape to Copenhagen, coming as it did on the day dedicated to lovers and involving a legend Olympian who had overcome physical disadvantages to set the world of athletics alight with his enormous courage and competitive spirit.
But it is a story which also happened in a land where about 50 murders a day are committed where violence against women and girls is as common in court reports as it is in successive presidential state of the nation addresses over the last 19 years.
Even as Jacob Zuma's state of the nation address on the day of the killing was ignored in favour of the awful details of Ms Steenkamp's death, the president still found time to urge his country folk to do more to stem the gang rapes and the murder of women.
For South Africa still has one of the highest incidences of rape worldwide and whereas the world's media focused on the tragedy of this couple, a few weeks ago a 17-year-old Cape woman died from horrific injuries sustained during a gang rape and her story received little international coverage.
No laughing matter
Mr Pistorius' dilemma split the continent into two camps as we watched the digital age convey the thoughts of the respective families and the television screens flickered with depictions of rich white South Africa.
From Facebook to Twitter everyone had an opinion or a wisecrack: Why is Oscar hiding his face as he's led away - we all know who he is. The cartoonists scoured the depths of originality by depicting the Blade Runner's blades chained to a prison wall with the runner himself absent.
But this was no laughing matter.
A young woman, who, by all accounts was as high an achiever as her accused boyfriend, has lost her life to the plague of gun ownership.
Nearly a decade ago I witnessed the South African police destroy guns given over in one of their many gun amnesty calls, but despite strict gun laws the fear of criminals with firearms has simply led to more people applying for gun licences in an endless spiral of arms to protect themselves.
The South African press also inform us that Mr Pistorius himself had applied for gun licences as early as January 2013 for three shotguns, two revolvers and a rifle to add to the 9mm pistol he had used when he ended his girlfriend's life - he says by accident.
Accident or no accident, had Mr Pistorius shot an intruder rather than Miss Steenkamp, his ownership of a weapon would still have taken a life.
And in a nation emerging from the shadow of apartheid, intruder must be read as "black person" and that is a defence with its own problems and is quite disturbing.
It remains to be seen as superstar lawyers do battle, whether the world of guns will be opened - a door closed to the rest of us because it costs so much to buy a gun, its ammunition and to join the shooting ranges the law requires of South African gun owners.
Fear and loathing
Already the psychologists are talking of South Africa's unhealthy fascination with weapons.
"South Africans," one writer told me, "don't like to admit to the fear and loathing on which everything else, particularly those secure housing estates of the beige land of urban sprawl we call Gauteng, is built."
Did such a fear sit within a world-renowned athlete despite his fame and fortune?
Why the love of guns, why the visits to a shooting range in the dark of the night when he could not sleep, why the applications for more guns? Was this a shooting just waiting to happen?
What emerges from the drama of that tragic week for the Olympian is the cheapness of South African lives across the social divisions.
For even as we gear ourselves for a June return to court, an investigating detective in the case has been replaced because of attempted murder charges hanging over him, and the athlete's own brother is allegedly fighting culpable homicide charges for the road killing of a motorcyclist.
There is blood almost everywhere you turn - will this case force the country to clean it up?
For that to happen the laws on gun ownership would need to change.
In this age of digital footprints we can all see the messages of support on Mr Pistorius' personal website coming from all over the world - perhaps soon to be harnessed by a media-savvy team on behalf of the athlete.
But the most touching digital footprint out there was left by Ms Steenkamp on her Twitter feed the day before her tragic end:
"Wear black this Friday in support against #rape and woman abuse. #Black Friday."
Unconnected perhaps, tragic certainly.
If you would like to comment on Farai Sevenzo's latest column, please use the form below.