Kenya election: Musicians sing for peace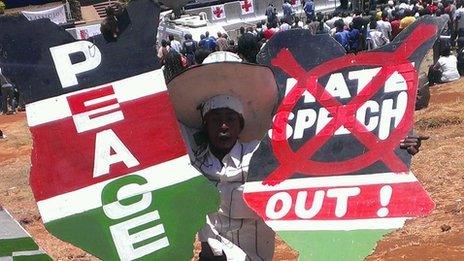 A peace concert has been held in the Kenyan capital, Nairobi, ahead of key elections next week.
It was organised on the fifth anniversary of the accord that ended post-poll violence in which more than 1,000 people died.
A few thousand people turned up at Uhuru Park but none of the presidential candidates were there.
It came a day after a report on attacks, hate speech and cases of ethnic intimidation was released.
The Kenya National Commission on Human Rights (KNCHR) said there were "many incidences of violence mainly involving supporters of rival candidates even within the main coalition parties".
"The widespread use of social media especially Facebook to spew out hatred on the basis of ethnicity and political affiliation is appalling," it added.
"Another major concern is the displacement of voters from some areas either because of intimidation or out of fear of recurrence of violence."
The Red Cross, which organised the concert together with several musicians, said all eight presidential candidates signed up to their peace pledge last week,
"We spent time with each one of the eight candidates and we got them to promise they would keep the peace," Gina Din of the Red Cross told the BBC's Newsday programme.
The crowd sang the national anthem, which contains the prayer "may we dwell in unity, peace and liberty".
It was broadcast on national radio and TV stations and afterwards the small audience drummed the saucepans and utensils they had been asked to bring along to make a "big noise".
"This is a symbol of them participating in the democratic process," musician Eric Wainaina told the BBC.
KNCHR said it was encouraged by such initiatives.
"The coming together of the main political leaders during the two key presidential debates and their pledge to peace during the National Prayer Meeting at Uhuru Park last Sunday is commendable and will hopefully jell Kenyans to maintain peace during the elections," it said.
President Mwai Kibaki is stepping down after the election, at the end of his two terms.
Monday's poll is expected to be a close contest between Prime Minister Raila Odinga and one of his deputies, Uhuru Kenyatta, who is due to stand trial at the International Criminal Court (ICC) later this year for allegedly orchestrating violence after the disputed 2007 election.
Related Internet Links
The BBC is not responsible for the content of external sites.