Kenya poll: Your expectations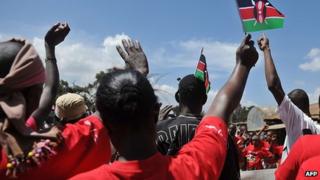 Kenyan voters go to the polls on 4 March in the first general election since the disputed contest of December 2007 unexpectedly exploded into violence.
BBC News has spoken to Kenyans across the country about their expectations of the upcoming poll and what challenges they think the new government and president will face.
Caroline Osik, Homa Bay
The major issue for Kenya right now is to embrace peace. The government has really reassured the people, having beefed up security in the places that were most affected in 2007. We are all hoping for peace.
I was not affected by the violence in 2007 as I live in an area where there are no strong tribal divides. However, we did not expect the post-election violence then.
For people here it is just business as normal. The police and security forces are out in town in preparation for Monday's election. We are just hoping nothing will come up.
Most people have decided who they will vote for; I think the two presidential debates were successful in helping Kenyans understand what each candidate wants for Kenya.
Moving to a county system is new for us and will be a bit of a challenge at first. We will have governors and senators taking office for the first time; now we need to prepare for a new system of governance.
Joshua, Nairobi
The 2007 experience affected all of the country, there was disruption of access to amenities countrywide.
The key issues in the current election are land and corruption. While there have been stringent measures introduced to curb corruption, it is till rampant in parastatals and a few public institutions like the police.
We also passed a very revolutionary constitution and Kenyans are keen to see it implemented.
Currently with the constitution in place and the revolutionized "independent electoral and boundaries commission", there is no likelihood of violence on the scale of 2007.
The main challenges for the new government is dealing with the optimism from the public. The implementation of double digit economic growth - necessary for achieving Vision 2030 (Kenya's development programme 2008-2030) - will perhaps be one of the biggest challenges.
Anna, Mombasa
Most people in Kenya want the elections to be peaceful.
The violence of 2007 was nothing new; it also happened in the 1990s. It's a five-year cycle. In 1993, I lost one of my cousins. Maybe there was so much focus on the 2007 election because it was on a larger scale.
I don't think there will be any vote rigging this time, not with international observers watching. I've been very impressed with the organization of these elections - it's very high-tech and very different from previous elections.
In Mombasa there is a mix of people who come from up country and locals who were born in the city. These locals feel quite marginalized and don't tend to register for the elections.
I don't think any of the presidential candidates should be running; we should leave this to the new generation of Kenyans.
Corrie Kisilu, Nairobi
I plan to vote in the forthcoming general elections. I believe that the elections will determine a lot because the 2007 elections were marred with violence.
No Kenyan wants to go through what we went through and so we expect that the presidential candidates will seek peace and even if we go for a run-off, they will not use that as a platform to divide people.
The ICC issue facing Uhuru Kenyatta and his running mate William Ruto is a great conflict especially to those who understand what it means to have such a president.
But the problem is not many people have been educated on the dangers of having a president who has to answer charges in the ICC. If my presidential candidate doesn't win, I will have to accept the defeat and move on because change starts with me.
Joseph, Kitale
I will be going to vote to exercise my right to elect the leaders I feel will be able to lead Kenya to prosperity, the leaders who will defend the fidelity of our new constitution (not just by blowing hot air but in action), the leaders who will captain my wish to see our Vision 2030 realized in my lifetime.
My impression of this year's election is that this is a highly competitive election that Kenyans will peacefully participate in. I am confident there will be no repeat of the violence of 2007 due to milestones put in place to prevent this, notably the reform of the judiciary and the police force, which have now become more accountable and independent.
The problem in 2007 was never with the people; it was with the previous leaders who were complicit in one way or another in inciting acts of violence. There's been a rude awakening in Kenya after what happened - no-one is ready to go out and start killing each other.
I am optimistic that we will all end up as winners, however there can only be one president and I hope whoever emerges winner will move quickly to rally the nation together.