Ghana's John Mahama launches Hope City project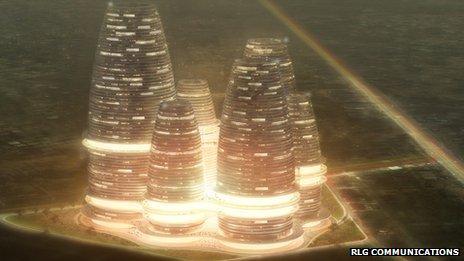 Ghana's President John Mahama has launched a project to build a $10bn (£6.6bn) IT hub near the capital, Accra, within three years.
Dubbed Hope City, it will have Africa's tallest building, at a height of 270m (885ft), an investor says.
It will be built on empty land and will employ about 50,000 people and house 25,000 people, the investor adds.
In January, Kenya unveiled plans to build an "Africa's Silicon Savannah" within 20 years at a cost of $14.5bn.
Kenya's Konza Technology City, about 60km (37 miles) from the capital, Nairobi, is supposed to create more than 200,000 jobs by 2030.
Mr Mahama said the private sector would spearhead the building of Hope City.
"Government has led growth since independence with all the major investments... The time has come for the private sector to take over," he said at the project's launch.
"We can see that already in several sectors, including ICT [information, communications and technology] and telecom."
The head of local technology giant RLG Communications, Roland Agambire, told the BBC that his company was investing in Hope City with the aim of making Ghana globally competitive.
"What we are trying to do here is to develop the apps [applications] from scratch," he said.
"This will enable us to have the biggest assembling plant in the world to assemble various products - over one million within a day," he said.
The IT hub would be made up of six towers, including a 75-storey, 270m-high tower, "the highest in Africa", RLG Communications says on its website.
"Hope City will provide work for 50,000 people and will host 25,000 inhabitants," it adds.
It would include an IT university, a residential area, a hospital, as well as social and sporting amenities, the BBC's Sammy Darko reports from Accra.
Related Internet Links
The BBC is not responsible for the content of external sites.