Senegal fire at Koranic school kills nine children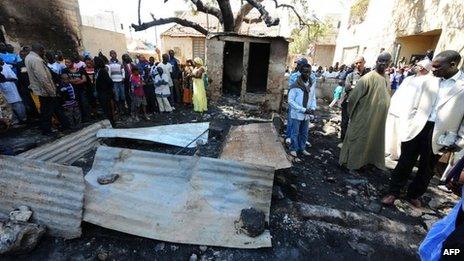 Nine children have been killed by a fire at a Koranic school near the centre of Senegal's capital, Dakar.
The blaze broke out as 45 children aged from six to 12 slept inside a single room with wooden walls and zinc roofing in the Medina district, witnesses said.
A candle is thought to have caused the fire, which began late on Sunday.
Fire engines are reported to have struggled to drive down the narrow road leading to the school, hampering efforts to extinguish the blaze.
Dakar's mayor, Khalifa Sall, told RFM radio that the ramshackle development of densely-populated residential areas in the city made it impossible for the emergency services to operate effectively.
President Macky Sall meanwhile visited the scene of the fire along with senior government officials on Monday and promised to tackle the long-standing issue of Koranic schools.
The BBC's Thomas Fessy in Dakar says human rights groups have repeatedly warned of the poor conditions in which children are housed in such schools, and some teachers have been accused of abuses.
Most of the pupils - known as "talibe" in the local language, Wolof - end up begging on the streets for money and food which they have to take back to their teachers, our correspondent adds.